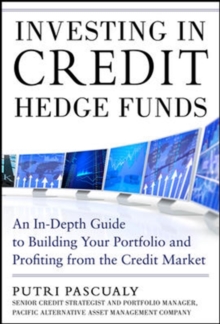 Investing in Credit Hedge Funds: An In-Depth Guide to Building Your Portfolio and Profiting from the Credit Market
Hardback
Description
THE DEFINITIVE GUIDE TO CREATING A POWERFUL STRATEGY FOR INVESTMENTS IN CREDIT HEDGE FUNDSFollowing the credit crisis that rocked the globalmarkets, many investors were left with a great sense of unease.
However, when faced with historically low interest rates in a world awash with liquidity, they flocked back into the credit market. But this wave of liquidity will soon come to an end.Investors are grappling with their need for returngeneration while trying to navigate an increasinglyvolatile credit market.
Given its inherent flexibility,the hedge fund structure is ideal for investing in thecredit market. In Investing in Credit Hedge Funds, PAAMCOcredit strategist Putri Pascualy shows how toprofit from a variety of credit-focused investments,including:HIGH-YIELD BONDS - Capitalize on the inefficiencies in the market for levered companiesSTRESSED / DISTRESSED MARKETS - Develop mastery of the bankruptcy and reorganization processes to spot yourbest opportunitiesBANK LOANS - Take advantage of loans' structural seniority and collateral while navigating credit, liquidity, and operational riskCONVERTIBLE BONDS - Apply trading acumen to invest in hybrid instruments that combine the best features of bonds and equitiesSOVEREIGN DEBT - Understand the difference between the corporate and sovereign bond market and manage the macroeconomic risks in a credit portfolioInvesting in Credit Hedge Funds provides in-depthresearch on the most commonly used structuring vehicles, the legal rights and responsibilities of all parties, and the pros and cons of separately managed accounts.
It provides practical, expert advice on conducting operational due diligence and best practices in mitigating counterparty risks to avoid the fates of those who suffered losses as Bear Stearns, Lehman Brothers, and MF Global went down. And it reveals practical risk-management techniques unique to credit investing. Investing in Credit Hedge Funds provides a fullyrounded education in creating a powerful credit portfolio that will instantly put you ahead of the investing pack. PRAISE FOR INVESTING IN CREDIT HEDGE FUNDS"Read this book if you want to understand how a leading hedge fund-of-fund investor evaluates distressed credit opportunities in the aftermath of the financial crisis."--Bruce Brittain, Executive Vice President, Product Management Group, PIMCO"Arms the institutional investor with the tools to conduct a more robust evaluation of a credit hedge fund's strategy, structure, and operational credibility.
It is a practical resource for the diversified institutional investor." -- Susan Ridlen, Assistant Treasurer, Eli Lilly and Company"Provides insight for investors to become more equipped to deal with the ever-evolving credit markets in the future." -- Lorraine Spurge, CEO of Maplestone Capital Advisors, LLC
Information
Format: Hardback
Pages: 336 pages
Publisher: McGraw-Hill Education - Europe
Publication Date: 16/11/2013
Category: Investment & securities
ISBN: 9780071829038
Free Home Delivery
on all orders
Pick up orders
from local bookshops