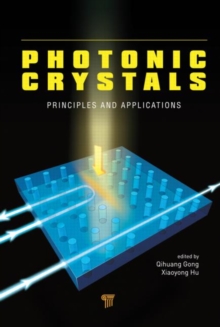 Photonic Crystals : Principles and Applications
Hardback
Description
This book provides a broad overview of photonic crystals and, as the title suggests, covers their principles and applications.
It is written from a physics point of view with an emphasis on materials science.
Equations are well explained and often completely avoided to increase the readability of the book. The book is divided into eight chapters, starting with a brief introduction.
The second chapter deals with different dimensionalities of the photonic crystals and their properties.
The third chapter is very interestingly written and provides a survey of the various synthesis methods used for production of photonic crystals, including chemical routes, lithography, and self-assembly of colloidal photonic crystals.
Chapters 4-8 constitute the bulk of the book and provide examples of applications of these photonic crystals.
Chapter 4 offers a good explanation of optical switching.
Bandgap and defect mode switching are also brought into focus along with many other mechanisms-14 different switching mechanisms in all, including thermal, electro, and magneto switching.
Frequency tuning of photonic crystal filters with special attention to nanosize photonic crystals is illustrated, providing a direct perspective on applications of these materials in integrated photonic circuits.
The transition from chapter 5 to 6 dealing with photonic crystal lasers is smooth, especially after a clear description of frequency tuning.
Here, one- to three-dimensional photonic lasers are explained along with laser oscillations produced by a variety of microcavity methods.
Metallodielectric and liquid-crystal photonic lasers are equally well illustrated.
Chapter 7 introduces logic devices based on photonic crystals.
This chapter clearly explains, with the help of simple illustrations, how to obtain AND, OR, and XOR logic gates.
Chapter 8 concludes the book by presenting possible applications, including gas, chemical, fluid, and cell sensing; their workings are very well described from a fundamental point of view. The diagrams and illustrations are appropriate and eye catching.
There are ample references; thus readers are able to find more detailed information to satisfy their curiosity if the book does not suffice.
Even though the introduction provides basics of these photonic crystals, I do get the impression that the bigger picture is missing.
A nonexpert may not understand the direct application of such materials right from the beginning of the book.
A flowchart or a diagram of these photonic crystals, illustrating applications in daily life at the beginning of the book, could attract a broader readership.
In this regard, I believe that this book is most adapted to physicists with a materials science background or vice versa.
However, one should take into consideration that the principles of photonic crystals cannot be explained without physics, and therefore the quality of this book remains intact and could very well serve as a textbook for future physicists.
Information
Format: Hardback
Pages: 366 pages, 7 Illustrations, color; 91 Illustrations, black and white
Publisher: Pan Stanford Publishing Pte Ltd
Publication Date: 07/01/2014
Category: Light (optics)
ISBN: 9789814267304
Free Home Delivery
on all orders
Pick up orders
from local bookshops