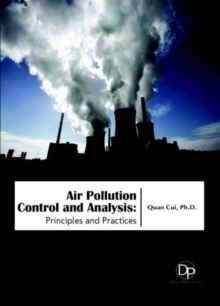 Air Pollution Control and Analysis : Principles and Practices
Hardback
Description
Air pollution has always been a trans-boundary environmental problem and a matter of global concern for past many years.
High concentrations of air pollutants due to numerous anthropogenic activities influence the air quality.
Air pollution means that one or more contaminants in the atmosphere do harm to human or other livings on earth.
Major air pollutants produced by human activities include sulfur oxides (SOx), nitrogen oxides (NOx), volatile organic compounds (VOCs), carbon monoxide (CO), particulates, toxic metals, chlorofluorocarbons (CFCs) et al.
These pollutants make the air pollution become a serious challenge for human race to face today with the increasing pressures of economic development, population growth and global warming.
The natural emissions has contribution to the pollutants concentration and atmospheric chemistry governs speciation of pollutants, as in the case of secondary acidification.
The methods of ambient air pollution monitoring based on modern instrumentation allow the verification of dispersion models and balancing of mass emissions.
The comfort of everyday human's activity is influenced by indoor and public transport vehicles interior air contamination, which is effected even by the professional appliances operation.
The outdoor pollution leads to cultural heritage objects deterioration, the mechanism are studied and the methods of rehabilitation developed.
Therefore, air pollution control and analysis has become an utmost important environmental research area. Air Pollution Control and Analysis: Principles and Practices is intended to introduce the principles of air pollution control, to describe mathematical models that could simulate air pollutant, as well as to demonstrate the practices of air pollution control appliances.
The topics of this book cover the following areas: specific pollutant monitoring and dynamic simulation, vehicles emission and urban pollution, indoor air pollution, air pollution and human health and the reviews of the distribution of air pollutant.
Information on a variety of control technologies is presented.
It is very necessary to know air pollution control methods and techniques because if we do not do then it is possible that air around us keeps on getting polluted.
Ultimately a day may come when each one of us might be using oxygen cylinder to enjoy fresh air.
This would add burden on our already high cost of living.
Therefore, we should understand ways and means of air pollution control.
The book presents information on four broad areas of interest in the air pollution field; the air pollution monitoring; air quality modeling; techniques to manage air quality; the new approaches to manage air quality.
It fulfills the need on the latest concepts of air pollution science and provides comprehensive information on all relevant components relating to air pollution issues in urban areas and industries.
The book is suitable for a variety of scientists who wish to follow application of the theory in practice in air pollution.
It will help in filling the gaps existing in the area of air quality monitoring, modelling, exposure, health and control, and can be of great help to graduate students' professionals and researchers.
Free Home Delivery
on all orders
Pick up orders
from local bookshops