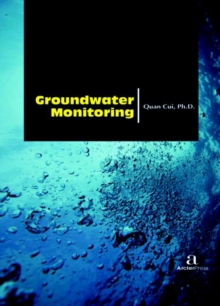 Groundwater Monitoring
Hardback
Description
Groundwater is a major source of water supply for drinking, irrigation and animal husbandry in many countries, especially in arid and semi-arid regions.
It is also a vital element of groundwater dependent ecosystems such as wetlands.
Regular and systematic monitoring of groundwater resources is necessary for its effective management to support the water needs of the environment and its citizens.
Groundwater monitoring can be defined as the scientifically-designed, continuing measurement and observation of the groundwater situation.
It should also include evaluation and reporting procedures.
Within a monitoring programme, data on groundwater are to be collected as far as possible at set locations and regular time intervals.
Although the legal basis, institutional framework and funding situation will impose their own objectives and constraints, still the underlying scientific or technical objective is to describe the groundwater situation in space and time. Groundwater also influences the quality of many rivers and streams.
Especially during the dry summer months, groundwater inflows affect stream flow, chemistry and temperature which in turn determine the quality of surface waters used for drinking water, irrigation and recreation.
High quality inflows of groundwater are essential for maintaining cold-water fisheries in many streams.
The primary goal of aquifer management is to develop groundwater resources on the basis of a policy plan, and to monitor and control the impacts of abstraction on the groundwater system.
The development and evolution of policy requires good hydrogeological understanding and will benefit from a monitoring network detecting changes in aquifer water level due to groundwater abstraction.
Since groundwater flow is related to groundwater levels, changes in flow regime can be determined from the observed changes in aquifer water levels.
Monitoring groundwater abstraction and aquifer water levels thus provides key information for groundwater resource management.
It has been widely recognized that the quality of groundwater is as important as its quantity for its consumption and applications.
The natural groundwater contains dissolved solids and dissolved gases from the dissolution of aquifer gases, mineral and salts.
Due to human activities and geographical movements, groundwater may also contain contaminants.
The required quality of groundwater depends on the purposes of its applications, such as drinking, domestic use, agricultural use.
In contrast to surface water, the changes of quality and quantity in groundwater are slow processes that are down below the land.
Therefore, it is necessary and urgent to build up groundwater monitoring plans and to develop monitoring methods.
This book covers the topics of groundwater monitoring plans, specific contaminants migration patterns, techniques used in sampling, models and data processing of groundwater monitoring, degradation and transformation of contaminant.
Information
Format: Hardback
Pages: 350 pages
Publisher: Arcler Education Inc
Publication Date: 30/11/2016
Category: Water industries
ISBN: 9781680944754
Free Home Delivery
on all orders
Pick up orders
from local bookshops