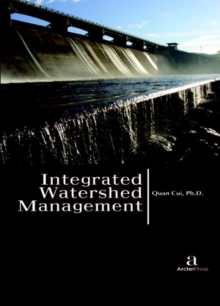 Integrated Watershed Management
Hardback
Description
Water is needed in all aspects of our lives. To ensure ongoing sustainability of this essential resource, a more holistic, integrated strategy needs to be adopted.
The ideal strategy interconnects environment, economy, and society.
Taking an integrated approach is the best way to ensure that adequate supplies of good quality water are maintained for the entire population, while preserving the ecosystems and adapting human activities within the capacity limits of nature - all for the best value. Human being is facing significant challenges in maintaining water quantity and quality nowadays.
In order to overcome these challenges, a process called Integrated Watershed Management (IWM) has been developed to manage human activities and natural resources on a watershed basis.
IWM is an evolving and continuous process through which decisions are made for the sustainable use, development, restoration and protection of ecosystem features, functions and linkages.
A government may initiate an IWM act to require co-operative agreements for the consultation and collaboration among the federal, provincial, and territorial governments in matters relating to water resources.
Also, local government, communities, alliances and companies can make integrated watershed management plans or programs to advocate all stakeholders to participate in the protection of certain watershed.
Features of this book include reviews about watershed management strategies, problems and discussions raised up in the cooperation of IWM programs, IWM and climate changes, models for IWM, industrial experiences of dealing with IWM.
This book also covers topics about marine area management, because IWM can learn from it.
A healthy watershed provides safe drinking water, provides food, enables us to adapt to the impacts of climate change more easily by cooling the air and absorbing greenhouse gas emissions, and provides natural areas for people to keep active and recharge our batteries.
A healthy watershed produces energy and supplies water for agriculture, industry and households.
Forests and wetlands help to prevent or reduce costly climate change and flooding impacts, manages drought, contributes to tourism, fisheries, forestry, agriculture and mining industries.
An abundant supply of clean water is essential for a vibrant economy.
Homes, farms, municipalities and businesses all need an ample supply of clean water to operate effectively.
Clean water allows municipalities, businesses, agricultural producers, and industries to operate more cost effectively, saving money for taxpayers and consumers.
Healthy rivers, lakes, wetlands and natural spaces are foundations for recreation and tourism.
Life requires a safe daily supply of water. Consequently, clean surface and ground water is essential to support our high quality of life and the social aspects of our communities.
Information
Format: Hardback
Pages: 311 pages
Publisher: Arcler Education Inc
Publication Date: 30/11/2016
Category: Water industries
ISBN: 9781680944747
Free Home Delivery
on all orders
Pick up orders
from local bookshops