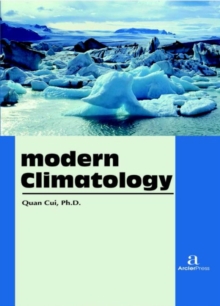 Modern Climatology
Hardback
Description
Climatology is more than just the study of weather.
Climatology is the scientific study of climates, which is defined as the mean weather conditions over a period of time.
A branch of study within atmospheric sciences, it also takes into account the variables and averages of short-term and long-term weather conditions.
Climatology is different than meteorology and can be divided into different areas of study.
Various approaches to this field can be taken, including paleoclimatology, which focuses on studying the climate over the course of the Earth's existence by examining records of tree rings, rocks and sediment, and ice cores.
Historical climatology focuses primarily on climate changes throughout history and the effects of the climate on people and events over time.
Though both climatology and meteorology are areas of study that are considered branches of similar areas of study, climatology differs from meteorology because its focus is on averages of weather and climatic conditions over a long period of time.The study of climatology has been changed in the past decades because people had realized climate is not a stable science that only fluctuated within the boundaries of historical records.
As an interdisciplinary science of physical geography, atmospheric science and biochemistry, modern climatology paid more attention to how the climate responds to drivers like human activities and how they interact with each other.
Unlike the classical climatology focused on certain regional boundaries, scales of modern climatology models in this book are both regional and global, with purposes of understanding the dynamics of the weather system and forecasting future climate.
This book also includes topics such as climate data analysis, long-tern forecasting models, dust storm, draught, coastal hazards, the impact of climate change and ecosystem responds, and climate extremes quantifying studies.
The modern era of climatology is echoed in this book.
On the one hand it offers a broad synoptic perspective but also considers the regional standpoint, as it is this that affects what people need from climatology.
Aspects on the topic of climate change - what is often considered a contradiction in terms - is also addressed.
It is all too evident these days that what recent work in climatology has revealed carries profound implications for economic and social policy.
Information
Format: Hardback
Pages: 294 pages
Publisher: Arcler Education Inc
Publication Date: 30/11/2016
Category: Meteorology & climatology
ISBN: 9781680944761
Free Home Delivery
on all orders
Pick up orders
from local bookshops