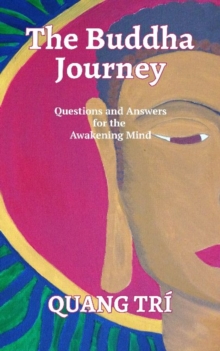 The Buddha Journey
Paperback / softback
Description
Of the hundreds of Buddhist introductory books on the market, The Buddha Journey: Questions and Answers for the Awakening Mindaims at bringing real questions from real people in one simple book.
A Mahayana Buddhism approach, without any specialties or traditions, The Buddha Journey gives over 100 answers and perspectives to questions for those new to, curious in or advancing their Buddhist practices from a general point of view.
The Buddha Journey aspires to answer the most commonly asked questions beginning or advancing students would ask.
The Buddha Journey covers your basic Buddhism 101 introduction, then answers over 100 questions about compassion, anger, forgiveness, meditation, impermanence, sex, karma, death, becoming a Buddhist and more!
Quang Tri writes in a simple, easy-to-understand way that allows the reader to understand the content and contemplate the subject matter on their own for their own interpretation.
Information
Format: Paperback / softback
Pages: 300 pages
Publisher: Primedia E-launch LLC
Publication Date: 28/10/2016
Category: Buddhism
ISBN: 9781944781705