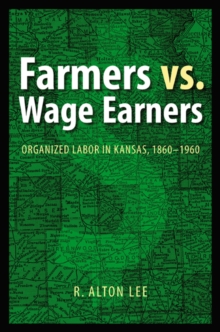 Farmers vs. Wage Earners : Organized Labor in Kansas, 1860-1960
Paperback / softback
Description
While predominantly agrarian, Kansas has a surprisingly rich heritage of labor history and played an active role in the major labor strife of the late nineteenth and early twentieth centuries.
Farmers vs. Wage Earners is a survey of the organized labor movement in the Sunflower State, which reflected in a microcosm the evolution of attitudes toward labor in the United States.
R. Alton Lee emphasizes the social and political developments of labor in Kansas and what it was like to work in the mines, the oil fields, and the factories that created the modern industrial world.
He vividly describes the stories of working people: how they and their families lived and worked, their dreams and aspirations, their reasons for joining a union and how it served their interests, how they fought to achieve their goals through the political process, and how employment changed over the decades in terms of race, gender, and working conditions.
The general public supported labor after the Civil War, but increasing urbanization and the farmer-dominated legislatures helped quell this sympathy, and new ire was eventually directed at the workingman.
By examining the progress of industrial labor in an agrarian state, Lee shows how Kansans, like many Americans, could eagerly accept the federal largesse of the New Deal but at the same time bitterly denounce its philosophy and goals in the wake of the Great Depression.
Information
Format: Paperback / softback
Pages: 342 pages
Publisher: University of Nebraska Press
Publication Date: 01/12/2008
Category: Social & cultural history
ISBN: 9780803220812
Free Home Delivery
on all orders
Pick up orders
from local bookshops