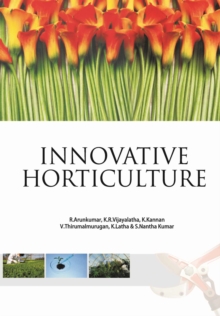 Innovative Horticulture
Hardback
Description
We are in the middle of the first decade of new millennium and facing lot of change in Indian agriculture particularly in the field of horticulture.
In the last millennium the horticultural crops had the limited phase of development because of unawareness of the research potentiality.
We will enter the second decade of new millennium and by the end of 2020; the golden revolution starts with new visions in application of modern and innovative techniques in breeding and farming.
Qualitative production is just sufficient to meet the domestic market except for few crops like spices, condiments, plantation crops, flower crops and medicinal plants which has high demand in the international market.
The horticultural crops contribute to the supplementary diet providing food security to the nation.
All this needs application of innovative approaches of scientific culture.
This book encompasses recent and pertinent field of horticulture viz., crop breeding, precision farming, biotechnology, therapeutic horticulture and post harvest practices covering fruits, vegetables, flowers and spices and plantations crops.
The knowledge on recent research technologies viz., bioinformatics, biotechnology, transplastomics etc. , will be helpful in production and consumption of horticultural crops.
The practical application of breeding techniques like polyoidy and the selection technique will pave the way to increase the productivity.
The exploitation of horticultural crops for the occurrence of antioxidants will serve for the human health and prevent the disease like cancer, cardio vascular disease, diabetics etc.
The organic farming for vegetable and plantation crops is more informative.
All this information is brought out in detailed in different s of this book."
Information
Format: Hardback
Pages: 404 pages, figures, tables, colour plates
Publisher: New India Publishing Agency
Publication Date: 01/01/0001
Category: Agriculture & farming
ISBN: 9788189422738
Free Home Delivery
on all orders
Pick up orders
from local bookshops