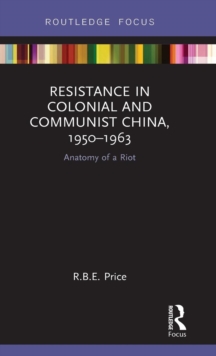 Resistance in Colonial and Communist China, 1950-1963 : Anatomy of a Riot
Hardback
Description
The history of colonial East Asia is a human anatomy describing beneficial organs of foreign rule.
Proclaiming itself a schematic diagram open to inspection, the anatomy of the late British Empire nevertheless obscured much more than it revealed.
This analogy in Price's provocative Cold War history is not presented only as an insight on imperialism but deciphers competing nationalist ideologies, too.
The Kuomintang contended vigorously against communist rule in southern China for a decade after the end of the civil war in 1949 and Chinese communists disparaged British colonialism in Hong Kong in a war of words peaking in 1956-1957.
These clashes of will did not produce new rulers in either place.
They informed a period of Sino-British strategic partnership based on recognition that a capitalist enclave in southern China had its uses. By focusing on the Hong Kong region, Resistance in Colonial and Communist China compares anatomies of the British colonial government, the Chinese communists and stateless members of the remnant Kuomintang (1950-1963).
Price asserts that after 1949, the colonial government of Hong Kong politically favoured the Kuomintang organised crime societies over their communist nationalist adversaries despite historiographical explanation that it favoured neither. This book challenges traditional concepts of the British colonial government and its attitude towards communist China.
It engages in current debates surrounding Britain's past by presenting a particularly devious episode of late colonial history.
Information
Format: Hardback
Pages: 126 pages, 2 Halftones, black and white
Publisher: Taylor & Francis Ltd
Publication Date: 15/01/2019
Category: Asian history
ISBN: 9781138388857
Also in the Routledge Focus on the History of Conflict series | View all