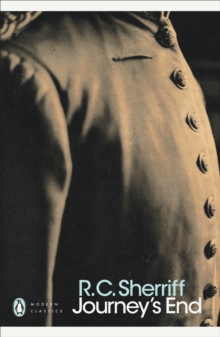 Description
Hailed by George Bernard Shaw as 'useful [corrective] to the romantic conception of war', R.C.
Sherriff's Journey's End is an unflinching vision of life in the trenches towards the end of the First World War, published in Penguin Classics.Set in the First World War, Journey's End concerns a group of British officers on the front line and opens in a dugout in the trenches in France.
Raleigh, a new eighteen-year-old officer fresh out of English public school, joins the besieged company of his friend and cricketing hero Stanhope, and finds him dramatically changed.
Laurence Olivier starred as Stanhope in the first performance of Journey's End in 1928; the play was an instant stage success and remains a remarkable anti-war classic.R.C.
Sherriff (1896-1975) joined the army shortly after the outbreak of the First World War, serving as a captain in the East Surrey regiment.
After the war, an interest in amateur theatricals led him to try his hand at writing.
Following rejection by many theatre managements, Journey's End was given a single performance by the Incorporated Stage Society, in which Lawrence Olivier took the lead role.
The play's enormous success enabled Sherriff to become a full-time writer, with plays such as Badger's Green (1930), St Helena (1935), and The Long Sunset (1955); though he is also remembered as a screenplay writer, for films such as The Invisible Man (1933), Goodbye Mr Chips (1933) and The Dam Busters (1955).If you enjoyed Journey's End, you might like Robert Graves's Goodbye to All That, available in Penguin Modern Classics.'Its unrelenting tension, and its regard for human decency in a vast world of human waste, are impressive and, even now, moving'Clive Barnes
Information
Format: Paperback
Pages: 96 pages
Publisher: Penguin Books Ltd
Publication Date: 26/10/2000
Category: Plays, playscripts
ISBN: 9780141183268
Other Formats
Hardback from £10.75
Paperback from £5.25
Free Home Delivery
on all orders
Pick up orders
from local bookshops
Reviews
Showing 1 - 2 of 2 reviews.
Review by laurapickle
16/06/2015
Set in one of the many depressing dugouts in the trenches of World War I 'Journey's End' is often cited as one of the best anti-war plays, and after finally reading it I understand why. The play allows a brief glance into the experiences of the officers in an Infantry company who must occupy their time on the Front Line just before an attack.Raleigh, a young school leaver fresh out of training, joins his old school friend and hero Stanhope, who has drastically changed after surviving three years in France. The play explores how the officers of the company cope with the strain of dealing with the uncountable horrors they must witness. Camaraderie and escapism seem to help the men to forget but when Raleigh's school boy naivety is contrasted against his counterparts it is easy to see how the idealistic hopes of a generation were turned to disillusion. Men are taken away ruthlessly with no time to mourn their loss and the scarring effect of the war is seen ever more vividly as each act passes. 'Journey's End' manages to convey the futility of war concisely and creates sympathetic characters who allow us a momentary glimpse into the war and an understanding of how much men, just like them, were forced to endure.
Review by Widsith
27/08/2015
Journey's End is considered a classic of First World War literature now, but at the time, it was rejected by almost every producer in the West End ('How can I put on a play with no leading lady?' one manager complained, providing Sherriff with the title to his future autobiography). It finally secured a pitiful two-night run at the Apollo in December of 1928, where it had the great good fortune to feature an unknown twenty-one-year-old actor in the lead role – one Laurence Olivier. It, and he, never looked back.It's a beautiful part for an actor, in a play that's wonderfully lean and controlled – a claustrophobic, tense study of combat trauma in three efficient acts. There is only one set – the inside of a British dugout – and we are not allowed out of it for the duration of the play, watching the interactions between Captain Stanhope and his four officers as a major German attack approaches.All of them deal with the tension in their own ways – Stanhope self-medicates with whisky; Osborne, his second in command, is calm and stoical; Hibbert attempts to feign a debilitating 'neuralgia'; and Trotter concentrates on enjoying his food to the fullest.The newest arrival, Raleigh, knew Stanhope at school (where he was 'skipper of rugger at Barford, and kept wicket for the eleven'); he has pulled strings to be in his boyhood hero's company, and through him we see the changes that a year on the Western Front has wrought on Stanhope.In its setting, and in the dynamic of its characters, you can see this play standing squarely behind almost every televisual and film representation of the trenches ever since. (It is practically a blueprint for Blackadder Goes Forth, with company cook Mason doing duty as comic relief.) It is also very moving – perhaps most of all because its characters are not against the war at all. They believe that what they're doing is important; we, watching from a distance, are almost overwhelmed by the meaningfulness that can be created from futility.
Also in the Penguin Modern Classics series | View all