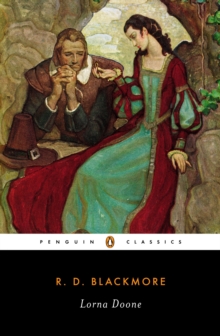 Description
First published in 1869, Lorna Doone is the story of John Ridd, a farmer who finds love amid the religious and social turmoil of seventeenth-century England.
He is just a boy when his father is slain by the Doones, a lawless clan inhabiting wild Exmoor on the border of Somerset and Devon.
Seized by curiosity and a sense of adventure, he makes his way to the valley of the Doones, where he is discovered by the beautiful Lorna.
In time their childish fantasies blossom into mature love-a bond that will inspire John to rescue his beloved from the ravages of a stormy winter, rekindling a conflict with his archrival, Carver Doone, that climaxes in heartrending violence.
Beloved for its portrait of star-crossed lovers and its surpassing descriptions of the English countryside, Lorna Doone is R.
D. Blackmore's enduring masterpiece.
Information
Format: Paperback
Pages: 752 pages
Publisher: Penguin Books Ltd
Publication Date: 25/10/2005
Category: Classic fiction (pre c 1945)
ISBN: 9780143039327
Other Formats
Paperback from £2.50
Hardback from £4.55
EPUB from £5.69
Free Home Delivery
on all orders
Pick up orders
from local bookshops
Reviews
Showing 1 - 5 of 6 reviews.
Previous | Next
Review by Misfit
16/06/2015
What an awesome tale. Written in the 19th century, but telling a tale about the late 1600's during the times of Charles II and James II. Our hero, John Ridd is a simple, albeit wise and honorable farmer who as a young lad meets Lorna Doone of the dreaded, evil outlaw family of higher born Doones, and it's love at first sight. There are lots of ups and downs and surprises, along with the author's gorgeous prose decribing the english countryside and farmlife. You have to pay attention though, as none of the characters are wasted. What might seem as inconsequential events and characters earlier in the story are brought back in full circle to the tale, along with a great mystery about Lorna's past as the author slowly peels out the many layers of his story. Highly highly recommended. If you enjoy Thomas Hardy, Charlotte Bronte or Dickens this will probably be right up your alley.
Review by lindawwilson
16/06/2015
An all time favorite; everything a novel should be; suggested to me by my father when we were in a used bookstore together when I was in my early 20's.
Review by hemlokgang
16/06/2015
I loved this book. The audio version is narrated with a beautiful Scottish brogue. This is the best epic romance I have ever read. Even Blackmore's descriptive passages, which can drag in even the best of audiobooks, were absolutely beautiful! I am so glad I read this old classic!
Review by maureene87
16/06/2015
I tried to read this once years ago and couldn't make it because the language was too hard. Which is odd, because I found it a very easy and entertaining read! John Ridd's voice is a marvel–an Exmoor (Devon and Somerset) farmer overlaid with a classical education, with a good helping of wry self-awareness. While Lorna is a bit of a damsel in distress, I really enjoyed this one.
Review by Benedict8
16/06/2015
This book is almost forgotten today. I listened to it on the Audible.com edition. The reader explains at the beginning how he had to go through hoops to get the accents right.<br/><br/>The book has some flowery language but otherwise is written in superlative beautiful Victorian English. It is an unusual story that is well worth the effort to listen to it or read it.<br/><br/>It is so well written that I got to the end despite its length and was a bit sorry when it ended.