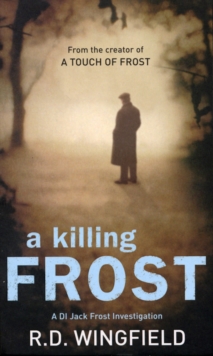 A Killing Frost : (DI Jack Frost Book 6)
Paperback
Description
On a rainy night in Denton, Detective Inspector Jack Frost is called to the site of a macabre discovery in the woods - that of a human foot.
Meanwhile a multiple rapist is on the loose, the local supermarket reports poisoned stock and a man claims to have cut his wife up into little pieces, yet can't recall where he hid them.
But it is when two young girls are reported missing in quick succession that the Denton crime wave reaches terrifying heights. As the exhausted Frost staggers from case to case, pressured from all sides and haunted by memories of his wife, something nasty arrives at the station in the form of Detective Chief Inspector Skinner.
The scheming, slippery Skinner clearly has his eye on the Superintendent's office, but his first job is to manipulate the transfer of the unorthodox D.I.
Jack Frost to another division. Will Frost find the missing girls before his new nemesis forces him away from Denton once and for all?
Information
Format: Paperback
Pages: 576 pages
Publisher: Transworld Publishers Ltd
Publication Date: 09/10/2008
Category: Crime & mystery
ISBN: 9780552156899
Free Home Delivery
on all orders
Pick up orders
from local bookshops
Reviews
Showing 1 - 4 of 4 reviews.
Review by austcrimefiction
16/06/2015
Confession up front - I don't read these books for their plots, their scenarios or even in an attempt to find the flaws in the procedural elements. I read them because I love Frost, Mullet, George Toolan, Ernie Trigg and the ever changing assortment of DS's that come and go in Frost's world. I love Denton, (wouldn't want to live there - the constant crime waves would do your head in after a while), but really, the point of the Frost books for me, at least, is more about time with old friends than it is necessarily about strong police procedurals. I guess I should also admit that it's now pretty well impossible to read a Frost book without seeing and hearing David Jason in the title role from the TV series, which is possibly also why I don't see some personality characteristics that other readers often comment on. I "see" the dialogue with a twinkle in the eye, with a strong coating of irony or self-deprecation. I hear a quintessentially tongue in cheek bit of a rogue policeman with a way of needling away at a case until it gets solved. Regardless of the resourcing problems, regardless of how much he annoys the upper echelons, and how many favours he calls in from his colleagues.I realise there is a distinct possibility that this could be seen as very odd, as often the cases are violent, and there is always a lot of simultaneous crime going on in these books, but I really do find the Frost series increasingly a bit of a comfort read. Not just because Frost is a copper who keeps going until everything's solved, not just because he's a copper who you'd trust to do the right thing, but also because there's something wonderfully English, something very realistic about the way that the cases are portrayed, the juggling that goes on everyday in an under-resourced, overworked and extremely human police force.
Review by eleanor_eader
16/06/2015
I've read better British crime thrillers… although there are a satisfying number of threads wandering through this episode in Frost's career, the author's reliance on errors of judgement and oversight to draw out his story is too contrived not to be noticed. More disappointingly, this was my first reading of one of the Frost books, and the latest published after the author's death, and I expected a well-established character who needed little in the way of blatant 'personality cues'. Frost's sexism and tough-skin banter doesn't bother me as part of the character, but the very standard and uninspired delivery of it is galling – Frost is not merely a misogynist, but one without original material, and worse, every time he is made to utter one of these lines it smacks of 'he's outdated but has a heart of gold' portraiture. Despite it's lack of subtlety, 'A Killing Frost' is readable… something is happening on every page, and for all his unattractive qualities, Frost is endeared to the reader simply because he cares for his team and getting the job done; qualities we want in our characters and our police, and therefore easy to warm to.If I read another of R.D Wingfield's Frost series, it'll be the very first one, to compare them and perhaps discover if his chief character was fresher before his enthusiasm for the series waned.
Review by bowerbird
16/06/2015
The late R D Wingfield has produced yet another very readable book. Frost is as cynical as ever and almost as big a rogue as some of the criminals but he always gets his man. And the-powers-that-be also get their come-uppance.What a shame this has to be the last of the series.
Review by edwardsgt
16/06/2015
Sadly this was the last Frost book, as RD Wingfield died in 2007, but it is a fitting final piece of work which captures the essence of Frost and his colleagues, especially Supt Mullett. Although the plot is a very serious and in places grim one, about the murders of several young women, Wingfield still manages to inject much humour into the story, especially in Frost's exchanges with other characters. For fans of Jack Frost as well those new to the character, this shouldn't be missed.
Also in the DI Jack Frost series | View all