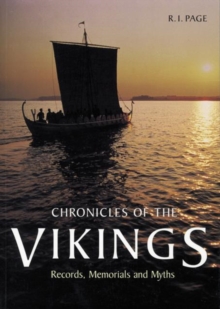 Chronicles of the Vikings : Records, Memorials and Myths
Paperback / softback
Description
Through translations of their surviving writings, the Vikings speak directly to the modern reader in this book, revealing much of their everyday feelings and concerns.
The Vikings are shown as they saw themselves, portrayed in their own writings or in the reports of people who knew them closely.
This book comprises of a series of translations from primary sources: runic inscriptions left behind by the Vikings, poems of their official skalds (literary works that entertained them), the few prose historical accounts that derive direct from the Vikings, and eyewitness reports of how the northern peoples lived.
It defines the social values of the Viking Age and looks at the problems they encountered in discovering, populating and cultivating new lands, the difficulties of keeping law and order and the solutions they tried.
This book also shows how the Vikings coped with famine and other natural disasters, travel and its perils, something of their popular culture, riddles, proverbs and aphorisms, and their sometimes irreverent approach to the supernatural, their gods and goddesses, magic and charms. In his introduction, Professor Page discusses the problems involved in using the surviving writings and looks at the information that is preserved solely in these primary sources.
Information
Format: Paperback / softback
Pages: 240 pages, index
Publisher: British Museum Press
Publication Date: 10/04/2000
Category: European history
ISBN: 9780714128009