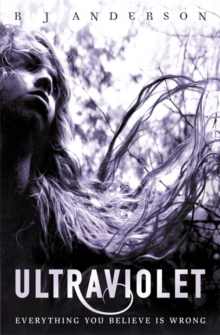 Description
Once upon a time there was a girl who was special. This is not her story. Unless you count the part where I killed her. Sixteen-year-old Alison has been sectioned in a mental institute for teens, having murdered the most perfect and popular girl at school.
But the case is a mystery: no body has been found, and Alison's condition is proving difficult to diagnose.
Alison herself can't explain what happened: one minute she was fighting with Tori - the next she disintegrated.
Into nothing. But that's impossible. Right?
Information
Format: Paperback
Pages: 416 pages
Publisher: Hachette Children's Group
Publication Date: 01/06/2011
Category: General
ISBN: 9781408312759
Free Home Delivery
on all orders
Pick up orders
from local bookshops
Reviews
Showing 1 - 5 of 6 reviews.
Previous | Next
Review by amanderson
16/06/2015
This suspenseful young adult novel had a stellar beginning, a good mysterious premise, and wonderfully descriptive writing, but it suffered from a little too much clouded genre bending that overwhelmed the plot a bit. Teenager Alison wakes up in the psychiatric unit of a hospital, not sure why she's there but knowing it's not good. She believes she has killed someone, a beautiful and popular teen named Tori at her school whom she never liked. The first person narrative, her fear and dread, and her synesthetic perceptions of her world (such as hearing "faint blue splashes of footsteps on tile") drew me right in. Turns out the police and psychiatrists also think she may have had something nefarious to do with Tori's disappearance, but noone's quite sure what happened - not even Alison. It had something to do with the wrongness she always felt about Tori, the strange birthmark only she could see on the other teen, the horrible high pitched sound she heard just before whatever happened. But, Alison's daily life is filled with unusual perceptions that she learned to keep strictly to herself, since her synesthesia is undiagnosed, and her feelings about Tori were just another secret. Alison is involuntarily committed and transferred to a psychiatric institution for troubled teens, and she is determined to get herself discharged. The suspense ratchets up from there, as she gets to know the other inmate teens, has an adversarial relationship with the admitting doc, and tries to keep herself and the increasingly disturbing synesthetic sensations under control, and to find out what happened that day with Tori. It's an enjoyable fast read and I think teens will enjoy it, but I do wish the author had stuck with the good mystery and science fiction plot elements, rather than also taking the story arc into the over-the-top unexplainable fantasy realm with Alison's abilities. An author's note explains more about synesthesia. I read an e-galley of the book courtesy of Netgalley.
Review by MitsuMarshmallow
16/06/2015
Ultraviolet is a brilliant book (well about 3 quarters of it) about a girl in a psychiatric facility. I thought the book was an amazing insight into the life of someone living with synesthesia; which you will learn more of later in the book. The book was believable and realistic, I wanted to know more about this special ability (or perhaps illness) she had, and how she had gotten in that facility, what happened to this girl who disappeared. My curiosity got the better of me and later in the book I became extremely disappointed by what the murder mystery turned out to be... time travel?! Are you kidding me...Anyway, this book has a romantic, disturbing sort of twist when Alison falls in love with an alleged university researcher, who turns out to NOT be a university researcher etc. blah, blah, blah,Turns out these people are from the future or something, the ending I thought was entirely silly and I would not recommend this to people who want a hard-hitting read. For me it was childish, an ending that made me hit my forehead with the palm of my hand. 3 and a half stars for the 3 quarters of the book I enjoyed! Initially a good read and I would recommend the book if the ending was re-written!
Review by Elysianfield
16/06/2015
DNF page 80<br/><br/>just couldn't get into it.
Review by A_Reader_of_Fictions
16/06/2015
Almost everyone I know loved this book and recommended that I read it super soon, including the wonderful Blythe. Ultraviolet is one of the books that makes you question everything and consider the world in a different light. It will likely surprise you, and it's rather difficult to review without spoilers. I will try my damndest not to spoil anything, however.<br/><br/>Alison suffers from synesthesia, though she doesn't know that's the name for her condition. I say "suffers" not because I think synesthesia is a curse, but because Alison does, her mother having punished her for mentioning what she could see and others could not. Alison has always thought she was crazy, and her mom has always loved Alison less for being an odd child. I love the descriptions of Alison's synesthesia throughout the book. They're beautiful, poetic and almost like sensing another dimension.<br/><br/>The story opens with a bang. Alison wakes up in a hospital, about to be transferred to a mental institution. A classmate of hers, Tori, disappears, last scene fighting with Alison. Next thing anyone knows, Alison shows up ranting that she killed Alison, disintegrated her into a million pieces. Alison is a mess, a danger to herself, thus being sent to the mental hospital. When she first wakes up, she remembers nothing, but the memories soon come flooding back.<br/><br/>This premise is utterly compelling. Mental institutions and insanity are just such wonderful subjects for fiction because the reader never knows precisely where they stand. A first person narration in such a case is never entirely reliable, because, not matter how the MC thinks they are, they might not be. For all I know, Alison actually spends the entire course of the novel whacked out on some powerful anti-psychotics and projects her guilt or delusions onto someone else or her dream self. I find this sort of mindfuck endlessly fascinating.<br/><br/>Pretending Alison is on the level and reliable, the story is an engaging one, filled with creepy subject matter and a matching eerie tone. Anderson sets tone in a way that reminds me a bit of Brenna Yovanoff, though their books are quite different. The murder mystery and the curiosities of the various characters kept me rapt throughout the novel.<br/><br/>However, I do have some concerns with regards to where the plot goes. I'll speak about them very generally to avoid spoilers. Basically, the plot takes a turn at one point, and I really wish the book had continued along in the vein where it began. Anderson might convince me that it was necessary in a later book, but I'm not there with this one.<br/><br/>Perhaps more frustrating is that I feel like too many things come too easily, too simply, and too unevenly. Alison's synesthesia seems to come and go; there will be a paragraph laden with synesthetic description, followed by bunches with none, which seems a bit weird, since she would always feel the world that way. On top of that, her synesthesia helps her with a lot of things that I don't think it would aid and she learns how to do these things with little more difficulty than snapping one's fingers. The romance, too, comes together so simply, without any thought on the part of the heroine, and just generally upsets me all around.<br/><br/>Now, I may not have loved this book as others did, but I definitely enjoyed it and appreciate its uniqueness. Also, though I may not be sure about the direction the book takes, in this sort of series, anything, and I do mean anything could happen, so there's no way that I could stop reading this series until I get to the end, whether it ultimately satisfies or not, though I hope it will. Those looking for mindbending reads will not want to miss Ultraviolet.<br/><br/>3.5 stars
Review by Ceilidhann
16/06/2015
I am a sucker for the dark side of literature. Growing up, I went through a massive phase of reading books about crime, serial killers and down-trodden detectives looking to solve the case, so seeing the synopsis of this book on NetGalley made it an instant must read for me. The book was surprising on many levels and it's a real genre bender, not quite the straight forward dark thriller I thought it was going to be, but did it work?<br/><br/>Some of it worked rather well. It becomes evident very early on that Alison has the condition synaesthesia, where one's senses cross over and interact in interesting ways. For Ali, this involves different numbers and letters having distinctive tastes and colours as well as some surprising experiences that occur throughout the book. I really enjoyed the way this was incorporated into the story and it provided a fascinating view of the world from a truly unique perspective. <br/><br/>Anderson's prose is particularly strong during these points and also rather beautiful. The more lyrical moments of prose don't always work within the context of the story though; sometimes it felt a little jarring. It was always enjoyable to read but I questioned whether it was the right stylistic choice at these moments in time. While Ali's narration is fascinating, it also means we sometimes don't get a fully realised view of the world she lives in. This isn't a problem to begin with – Anderson effectively creates a sense of foreboding and intrigue as Ali discovers what has happened – but then it goes a little off the rails, mainly because of Ali.<br/><br/>I didn't mind Ali as a character. I understood her fear and sympathised with it for most of the book, plus her narration, as I said, was very lyrical and interesting at times. However, her decision making process left me feeling a little frustrated. I'm not a fan of characters avoiding the obvious for the sake of plot development. Sometimes it felt like Ali wasn't allowed to progress because the author had decided it wasn't time for that yet. While I understood Ali's difficulties and worries over making certain choices, it still didn't feel natural. I also felt like we didn't get a lot of characterisation for the supporting players, especially Ali's fellow patients and the mysterious Dr Faraday. <br/><br/>There are two small, very specific things in the book that I really want to touch upon, and to do this there may be slight spoilers. <br/>Unfortunately, the book casually drops in one of my biggest irritants in YA fiction – the casual gay joke. One of Ali's fellow patients, who is bipolar, makes several references to Dr Faraday being gay (he isn't gay but the boy, whose name I have unfortunately forgotten, keeps saying he is out of jealousy, I think) and no-one chastises him for it. Ali silently expresses disapproval but nobody points out how stupid and insulting it is to casually use homosexuality as a negative marker of someone. The boy was frequently punished for saying stupid thing so why not this? It's a small thing, I know, but I've seen it used so frequently in fiction without any character, or even the omniscient narration, taking the time to say it's wrong, and it bugs me because we've still got this society that uses 'That's gay' as some ultimate insult. Homosexuality is still somehow the acceptable insult these days. <br/><br/> The other problematic element I had also involves this young man forcing himself on Ali. She pushes him back, screams and makes it pretty clear that she doesn't want this and when the boy has the audacity to be insulted by this, she say sorry. Even though she mentions in her narration that she really isn't sorry, she still says it. She didn't have to say it! She wasn't the one at fault here; mental illness or not, the woman, or man, shouldn't apologise for having someone force his or herself upon her/him! Later on, the issue is dealt with and the boy is punished but this little scene still nagged at me so I had to address it.<br/><br/>Overall, I like a lot of thing about "Ultraviolet." The incorporation of synaesthesia was fascinating and well handled, providing an often beautiful and unique narration, and the set-up is intriguing for the most part. I admire Anderson for taking the book out of the comfort zone and not sticking to the well worn and seductively easy routes YA has so often been taking lately. It doesn't always work but I was never bored by what I read, even if some of it was a little sketchily developed. The strong elements that kept me reading were let down by some weaker moments of plotting and characterisation. I'm really not sure how to rate this book. It's either a 2.5 or a 3 out of 5. There's definitely a lot to enjoy in the book and it's refreshing to see something unique in the genre right now, but for all its strengths it could have definitely been stronger. <br/><br/>2.5 or 3/5 (apologies for my indecisiveness, I genuinely spent ages trying to pick one and couldn't!)<br/>