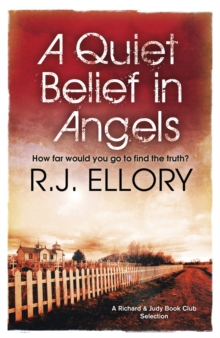 A Quiet Belief in Angels
Paperback
Description
A superb, atmospheric thriller from 'one of crime fiction's new stars' [Sunday Telegraph]Joseph Vaughan's life has been dogged by tragedy.
Growing up in the 1950s, he was at the centre of series of killings of young girls in his small rural community.
The girls were taken, assaulted and left horribly mutilated.
Barely a teenager himself, Joseph becomes determined to try to protect his community and classmates from the predations of the killer.Despite banding together with his friends as ' The Guardians', he was powerless to prevent more murders - and no one was ever caught.
Only after a full ten years did the nightmare end when the one of his neighbours is found hanging from a rope, with articles from the dead girls around him.
Thankfully, the killings finally ceased. But the past won't stay buried - for it seems that the real murderer still lives and is killing again. And the secret of his identity lies in Joseph's own history...
Information
Format: Paperback
Pages: 416 pages
Publisher: Orion Publishing Co
Publication Date: 01/12/2007
Category: Crime & mystery
ISBN: 9780752882635
Other Formats
eAudiobook MP3 from £20.96
Free Home Delivery
on all orders
Pick up orders
from local bookshops
Reviews
Showing 1 - 5 of 10 reviews.
Previous | Next
Review by murraymint11
16/06/2015
A sad, and sometimes harrowing tale, beautifully written. This was a book I couldn't put down, as much for the author's wonderful turn of phrase as for the plot. A 'serial-killer' story, but not written in the usual fast-paced style. The small town of Augusta Falls was very well portrayed, as were all its characters. I could hear all the Southern voices clearly in my head. I did feel that Joseph had an inordinately large amount of bad luck in his life, almost too much to make it completely believable. Almost. Finally, I would have liked the author to explore why the killer killed as he did.
Review by quartzite
16/06/2015
A dissenting view here, I enjoyed the first half of the book, Ellory has a strong story-telling voice that really pulled things along. I thought the short chapter openers from the present detracted from that, however.By the second part, when the protagonist hits adulthood it starts to unravel. Words to the effect of "from that point on nothing would be same" start to become repetitive, partly because few literary characters can have been hit with this many tragedies since Job, and it all begins to defy belief.When we finally drag to the denouement, it can hardly be described as a surprise since by then it is about the only option left for the obligatory twist ending, but I found it highly unconvincing. And as I thought back through why it was unconvincing, more and more of the previous narrated events appeared equally unconvincing. The narrative drive speeds you past major plot holes so fast you don't notice them until the story ends and the spell is broken, but then it all crumbles away into those gaping chasms.
Review by smik
16/06/2015
Reading a novel in a matter of a couple of days is rare for me, but this morning I had 150 pages to go, and fairly galloped through it to find out whether what I thought had happened was what did happen. Just for the record, I was partly right, but got a lot wrong, despite the clues that Ellory laid.Death took Joseph Vaughan's father in the summer of 1939 just after Joseph, 11 years old, had picked up a long slender white feather, perhaps from an angel's wing. Death came that day. Workmanlike, methodical, indifferent to fashion and favor; disrespectful of Passover, Christmas, all observance or any tradition. Death came - cold and unfeeling, the collector of life's taxation, the due paid for breathing.In the following years Death visits the small community of Augusta Falls where Joseph lives with his mother, many times, as a serial killer who takes the lives of young girls after doing unspeakable things to them. At school Joseph learns of unbelievable events happening in Europe through the evil of Adolf Hitler, and when after Pearl Harbour America goes to war, the murders of the young girls continue, all girls that Joseph knows well. Joseph organises a young band of vigilantes who call themselves The Guardians, but they can do nothing, and when the latest victim is a young Jewish girl, the community of Augusta Falls turns on non-Americans, including the Krugers who live next door to Joseph and his mother. These deaths dominate the path that Joseph Vaughan's life takes and what happens to the Krugers is nothing to what will happen to Joseph Vaughan.Ellory uses the angel's feather icon at least a couple more times in A QUIET BELIEF IN ANGELS. Joseph Vaughan is almost a magnet for Death - it touches those near and dear to him, and sometimes he sees it coming, and sometimes not. As a child and a young man he often sees the workings of Death as his own fault. The events that catch him up in their thrall almost cost him his sanity, but the fact that he is at heart a writer finally helps him to the truth.I have put this book among my top finds for the year, and that is not just for a complex story well told, but also for Ellory's wonderful writing. Last week I saw a book categorised as a "literary thriller" and wondered what that actually meant. There has been a tendency not to consider crime fiction as having literary merit but I think A QUIET BELIEF IN ANGELS easily straddles both genres. There's a quality in its word pictures that puts it right at the top. This book should win awards!
Review by amcgregor
16/06/2015
I found the writing too florid and I felt it got in the way of the storytelling.
Review by DeltaQueen50
16/06/2015
This was an amazing read. A Quiet Belief In Angels is a book about the horrific murder of a number of young girls in and around the rural Georgian town of Augusta Falls. Yet this book is about so much more, the coming of age of a young man destined to be a writer, a great observer of life, and a person who felt so attached and responsible for the deaths of these young girls, it became his life mission to uncover the truth. A interesting story, and written in such beautiful and captivating prose.I was reminded of the book The Blue Star by Tony Early, probably because both books started in the same time period, the late 1930's, both were about a young, fatherless boy coming-to-age in a small southern, rural town. Of course, both books were written beautifully but where The Blue Star was very positive and uplifting, this book showed a much darker and haunted side.This is not a book to be read as a fast-paced crime story, instead it is a story to immerse oneself and slowly ponder upon the ways of life, both good and bad. I highly recommend A Quiet Belief In Angels.