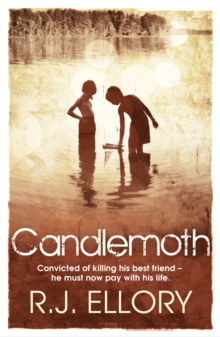 Description
Daniel and Nathan were six years old when they first met and became best friends.
Thirty years later Dan is convicted of Nathan's murder . . .Daniel Ford has thirty-six days to live. Accused of the horrific murder of his best friend Nathan twelve years before, he has exhausted all appeals and now faces the long walk to the electric chair.
All he can do is make peace with his God. Father John Rousseau is the man to whom the last month of Daniel's life has been entrusted.
All the two men have left to do is rake over the last ashes of Ford's existence.
So he begins to tell his story. Daniel's story takes him from his first meeting with Nathan, aged six, on the shores of a lake in 1952, through first loves, Vietnam, the death of Kennedy and finally their flight from the draft which ends in Nathan's brutal murder. But meanwhile the clock is ticking and the days are running out . . .
Information
Format: Paperback
Pages: 400 pages
Publisher: Orion Publishing Co
Publication Date: 01/08/2004
ISBN: 9780752859149
Free Home Delivery
on all orders
Pick up orders
from local bookshops
Reviews
Showing 1 - 3 of 3 reviews.
Review by aka_fun
16/06/2015
I really did enjoy this book. Although, it took forever to read. Not the writer's fault, mine. The references to events -- Vietnam, Kennedy, Cuba, Kent State, drugs, free love, etc. -- kept bringing back memories. I'd find myself thinking about the time while my eyeballs just kept going. I was a little disappointed by the ending, but I don't know if I'd be happier if it ended differently.
Review by runner56
16/06/2015
R J Ellory's books are about human nature and human emotion exposed....You cannot help but be touched and greatly affected by his writing long after the book is finished. What I find so powerful in this and other books is is depiction of childhood and how our childhood experiences stay and affect us all our lives. Candlemoth is about being on death row and the realization and inevitably of our own mortality, this is a great starting point to evaluate and make sense of our lives. Candlemoth is a beautifully written, constructed and paced novel and I urge you to read it as it may come some way in helping us all make sense of our own meagre existence!
Review by sushicat
27/01/2016
Daniel Ford sits on death row, all appeals have failed, the date is about to be set. The crime he is convicted for: killing his best friend. These last months he is accompanied by a priest, who gets him to tell his story. And so we learn about Daniel and Nathan, one white, the other black, growing up in small town South Carolina in the 50s and 60s, how they become aware of racial tensions and the Vietnam war and what it would mean for both their lives. And finally how Daniel came to be where he is.<br/><br/>Superbly written, it brings alive a time that feels much further away than it actually is. The characters are flawed and feel so very real. Loved this book.<br/>