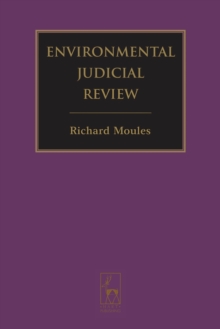 Environmental Judicial Review
Hardback
Description
Judicial review of environmental decisions is an important and growing area of public law.
But although the general principles of judicial review have been clearly mapped out, their application to the particular context of the environment is under-explored.
This book therefore seeks to provide a detailed and critical account of environmental judicial review in both domestic and EU law.
Part I explains the central principles of environmental law, such as the polluter pays principle and the precautionary principle, and shows how they influence the application of public law standards of legality.
Part II considers the procedurefor judicial review with particular emphasis on standing, protective costs and the availability of interim relief.
Part III consists of a detailed examination of how each of the grounds for judicial review is applied in the environmental context.
It highlights the increased emphasis on consultation and public participation in environmental matters, the degree of deference afforded by the courts to scientific and political judgments, and the prevalence of 'hard-edged' questions of law.
Part IV focuses on EU law and examines direct and indirect actions before the EU courts, preliminary references and state liability.
It also considers infraction proceedings brought by the EU Commission, the role of individuals and NGOs in relation to such proceedings and the interrelationships between infraction proceedings and judicial review.
Finally, Part V explains the complex regime governing access to environmental information.
Information
Format: Hardback
Pages: 430 pages
Publisher: Bloomsbury Publishing PLC
Publication Date: 01/09/2011
Category: Environment law
ISBN: 9781849460019