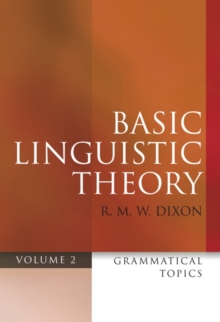 Basic Linguistic Theory Volume 2 : Grammatical Topics
Paperback
Description
In Basic Linguistic Theory R. M. W. Dixon provides a new and fundamental characterization of the nature of human languages and a comprehensive guide to their description and analysis.
In three clearly written and accessible volumes, he describes how best to go about doing linguistics, the most satisfactory and profitable ways to work, and the pitfalls to avoid.
In the first volume he addresses the methodology for recording, analysing, and comparing languages.
He argues that grammatical structures and rules should be worked out inductively on the basis of evidence, explaining in detail the steps by which an attested grammar and lexicon can built up from observed utterances.
He shows how the grammars and words of one language may be compared to others of the same or different families, explains the methods involved in cross-linguistic parametric analyses, and describes how to interpret the results.
Volume 2 and volume 3 (to be published in 2011) offer in-depth tours of underlying principles of grammatical organization, as well as many of the facts of grammatical variation. 'The task of the linguist,' Professor Dixon writes, 'is to explain the nature of human languages - each viewed as an integrated system - together with an explanation of why each language is the way it is, allied to the further scientific pursuits of prediction and evaluation.' Basic Linguistic Theory is the triumphant outcome of a lifetime's thinking about every aspect and manifestation of language and immersion in linguistic fieldwork.
It is a one-stop text for undergraduate and graduate students of linguistics, as well as for those in neighbouring disciplines, such as psychology and anthropology.
Information
Format: Paperback
Pages: 512 pages, Tables, Figures
Publisher: Oxford University Press
Publication Date: 05/09/2009
Category: Historical & comparative linguistics
ISBN: 9780199571086
Free Home Delivery
on all orders
Pick up orders
from local bookshops