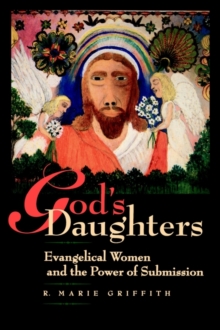 God's Daughters : Evangelical Women and the Power of Submission
Paperback / softback
Description
In recent decades, religious conservatives and secular liberals have battled over the 'appropriate' role of women in society.
In this absorbing exploration of Women's Aglow Fellowship, the largest women's evangelical organization in the world, R.
Marie Griffith challenges the simple generalizations often made about charismatic or 'spirit-filled' Christian women and uncovers important connections between Aglow members and the feminists to whom they so often seem opposed.
Women's Aglow is an international, interdenominational group of 'spirit-filled' women who meet outside the formal church structure for healing prayer, worship, and testimony.
Aglow represents a wider evangelical culture that has gained recent media attention as women inspired by the Christian men's group, Promise Keepers, have initiated parallel groups such as Praise Keepers and Promise Reapers.
These groups are generally newcomers to an institutional landscape that Aglow has occupied for thirty years, but their beliefs and commitments are very similar to Aglow's. While historians have examined earlier women's prayer groups, they've tended to ignore these modern-day evangelical groups because of their assumed connection to the 'religious right'. "God's Daughters" reveals a devotional world in which oral and written testimonies recount the afflictions of human life and the means for seeking relief and divine assistance.
A relationship with God, envisioned as father, husband or lover, and friend, is a way to come to terms with pain, dysfunctional family relationships, and a desire for intimacy.
Griffith's book is also valuable in showing the complex role that women play within Pentecostalism, a movement that has become one of the most important in twentieth-century world religions.
Information
Format:Paperback / softback
Pages:286 pages
Publisher:University of California Press
Publication Date:15/11/2000
Category:
ISBN:9780520226821
Also by R. Marie Griffith