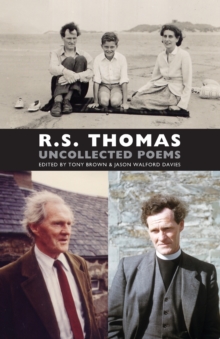 Uncollected Poems
Paperback
Description
R.S. Thomas (1913-2000) is a major writer of our time, one of the finest religious poets in the English language and one of Wales's greatest poets.
His output was prolific: over six decades he published some 25 individual collections of poems, as well as several volumes of prose.
A substantial number of his poems, however, have hitherto remained uncollected, and often elusive - poems published in newspapers, magazines and journals (many of them obscure), as well as in private or limited editions.
Uncollected Poems - published to mark the centenary of Thomas's birth - brings together for the first time a rigorous selection of the best of these.
The fruit of several years' research by Tony Brown and Jason Walford Davies, the volume makes available work which spans the whole of Thomas's career - from an early sonnet to his first wife, M.E.
Eldridge (included in his first, unpublished, collection Spindrift in the late 1930s) and an early Iago Prytherch poem published in the Dublin Magazine, to poems which are powerful expressions of the metaphysical meditations of his later years.
R.S. Thomas's Uncollected Poems takes its place alongside Collected Poems 1945-1990 (Dent, 1993; Phoenix, 2000), Selected Poems (Penguin, 2003) and Collected Later Poems 1988-2000 (Bloodaxe Books, 2004).
It gives readers of R.S. Thomas's work access to much new and fascinating material.
Uncollected Poems is a companion volume to R.S. Thomas's Collected Later Poems 1988-2000 (Bloodaxe Books, 2004), the sequel to Collected Poems 1945-1990 (Dent, 1993; Phoenix Press, 2000), which only covers his collections up to Experimenting with an Amen (1986).
Collected Later Poems 1988-2000 reprints in full the contents of R.S.
Thomas's last five collections, The Echoes Return Slow (Macmillan, 1988: unavailable for many years), and Bloodaxe's Counterpoint (1990), Mass for Hard Times (1992), No Truce with the Furies (1995) and the posthumously published Residues (2002).
There is no overlap between the two Bloodaxe editions: none of the poems in Residues, uncollected at the time of his death in 2000, is included in Uncollected Poems.
Information
Format: Paperback
Pages: 160 pages
Publisher: Bloodaxe Books Ltd
Publication Date: 21/03/2013
Category: Poetry by individual poets
ISBN: 9781852248963
Free Home Delivery
on all orders
Pick up orders
from local bookshops
Reviews
Showing 1 - 1 of 1 reviews.
Review by Roseredlee
27/08/2015
A fascinating collection of Thomas's poems painstakingly sought out by Tony Brown and Jason Walford Davies with the assistance of numerous R. S. aficionados. The usual uncollected consists of juvenilia, fragments and poems considered unfit by their makers, hauled out of worthy obscurity by academics hungry for some unploughed fields. These 178 poems have, however, mostly been previously published in various poetry magazines and then sadly slipped from view, and we must be very grateful for their resurrection, as there are some wonders here, although most of the themes are familiar. There is the rape of Wales by those 'who take and leave us ruined by their taking'- ' the stale prerogative/Of history foists them on our luckless land'. The struggle of a priest to understand, tolerate and communicate with others, especially those like the 'Old Man' 'toiling on/Up life's slope with the huge stone/Of a tongue he has been burdened with'. The inadequacies of the communication of the poet himself as he 'sleeps,/his head on vocabulary's/stone pillow'. The hard relationship with his religion -'an absence so much richer/than a presence'. Early love poems to his wife - 'Content to live with silence as a cloak/About her every thought...' I am an atheist but R. S Thomas is one of the few poets I constantly return to, he is constantly challenging and the often stark intelligence and bleak beauty of his poetry demands attention. I am so glad that the editors of this book have salvaged these lost treasures.