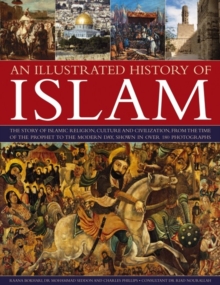 Illustrated History of Islam
Paperback / softback
Description
This is the story of Islamic religion, culture and civilization, from the time of the Prophet to the modern day, shown in over 180 photographs.
It offers an overview of Islamic history from the time of the Prophet to the present day, featuring the successors to the Prophet, the power of the Umayyads, the golden age of the Abbasids, the Shiah empire of the Fatimids, the rise of the Ottomans, and the Muwahiddum movement.
It explores the history of Islam in many different parts of the world, such as Iraq, Iran, Spain, North Africa, Turkey, India and China.
It includes a timeline listing the major events in Islam's rich and culturally diverse history, and a glossary of frequently used Arabic terms.
It is beautifully illustrated throughout with over 180 images of manuscripts, angelic visitations, scholars, rulers, mosques, battles, shrines, palaces, and modern pilgrims and leaders.
With Muslims statistically representing around a quarter of the global population - some 1.4 billion people - Islam is a powerful force in today's world.
This book offers a chronological history of the main events that have shaped the Islamic religion since the year of Muhammad's birth in 570. Topics include the preservation of the Prophet's sayings; laws and scholars; mathematics, medicine and astronomy; the Islamic Renaissance in Spain; Islam in Asia; and radical Islam.
A useful glossary of Arabic terms is also included. With over 180 paintings and photographs, this sumptuously illustrated book is a valuable introduction to the history of Muslim civilization.
Information
Format: Paperback / softback
Pages: 96 pages, over 180 photographs
Publisher: Anness Publishing
Publication Date: 01/07/2012
Category: Islam
ISBN: 9781780191522
Free Home Delivery
on all orders
Pick up orders
from local bookshops