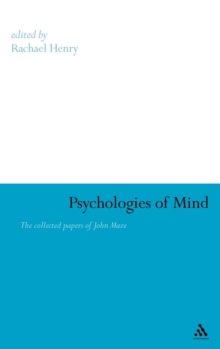 Psychologies of Mind : The Collected Papers of John Maze
Hardback
Description
John Maze was a giant among philosophers of psychology.
This exciting, new collection of his published work demonstrates that what is seemingly new in psychology is so often not new at all but frequently consists of ill-informed corruptions of earlier, discarded, misguided attempts.
Their collection together is timely in the current, innovatory era of cross-disciplinary exploration and integration on the borderlands of psychology and philosophy, where there is a visible danger that the welcome loosening of barriers to mutual communication also generates some 'wild' theorizing, familiar enough in the history of psychology itself.
A corpus remarkable for its coherence, intellectual virtuosity and radicalism over 50 years, it speaks meaningfully to the wide range of psychological theory throughout its history up to the present day. Written with elegance and eloquence, the essays entail a thoroughgoing critical analysis of the most detrimental philosophical erroers of academic psychology in the 20th century, the relegation to history by the 20th century academy of some of the conceptually most promising lines of research, the cost that has been borne by the discipline of psychology, and the most promising future direction for the discipline.
Information
Format: Hardback
Pages: 386 pages, black & white illustrations
Publisher: Bloomsbury Publishing PLC
Publication Date: 12/03/2009
Category: Philosophy of mind
ISBN: 9780826435514