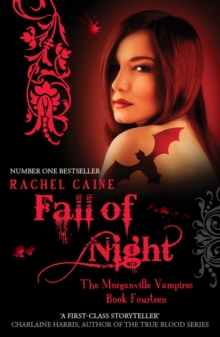 Description
Thanks to its unique mix of human and vampire residents, Morganville, Texas, is a small college town with big-time problems.
But it isn't the only town with vampire trouble ...Claire never thought she'd leave Morganville, but when she gets accepted into the graduate course at MIT, she can't pass up the opportunity.
Saying goodbye to her friends, especially her boyfriend Shane, is bittersweet, and her new life at MIT is both scary and exciting.
Enrolled in a special advanced study programme with Professor Irene Anderson, former Morganville native, Claire is able to work on VLAD, her machine designed to cancel the mental abilities of vampires. But Morganville and its inhabitants are never really far from Claire's mind.
When she begins testing her machine on live subjects, things quickly spiral out of control, and Claire begins to wonder whether leaving Morganville was the last mistake she'll ever make ...
Information
Format: Paperback
Publisher: Allison & Busby
Publication Date: 02/05/2013
Category: Horror & ghost
ISBN: 9780749012663
Free Home Delivery
on all orders
Pick up orders
from local bookshops
Reviews
Showing 1 - 2 of 2 reviews.
Review by BookLoversLife
16/06/2015
Loved the fact it wasnt set in Morganville and that ending!!! I need the next book.
Review by katie1802
16/06/2015
Book fourteen.<br/>*whistles*<br/>The end is nigh.<br/><br/>I think this is only the second book to take place outside of Morganville? And the first where Claire exercises any level of separation from her Glass House family. I'm happy for Claire, getting away from Shane for a bit to figure herself out and what she really wants. She makes it clear that she very much still loves him, but needs to be her own person, and that is as admirable as it get's in my book.<br/><br/>I won't lie, I didn't like any of the characters we met in Boston. Liz is annoying, Dr Anderson was dodgy as hell and everyone just radiated pure sleaze. Pete and Jesse were cool though, that's it.<br/><br/>I kinda picked up in Bitter Blood that VLAD would cause trouble later on, but I wonder who Myrnin told about it? Why else get Claire to Boston? I shouldn't think too hard about it, probably. <br/><br/>The shifting perspectives added a lot of colour to this book and finally felt appropriate. It was only Claire and Shane this time around which I appreciated since Caine is clearly only utilising other perspectives when she deems it necessary, not just for the hell of it.<br/><br/>The climax felt all over the place in this one. Although, they usually are in Morganville. This is probably just my own shortcoming but I actually find it quite difficult to keep up with the fight scenes and Claire's latest ninja escape from some armed and dangerous dude twice her size. It's Claire though, I believe it when she survives, tough cookie that she is.<br/><br/>Minor gripe; She sure went back on her desire to separate herself from Shane quite quickly, huh? And he told her in Bitter Blood he was going to Boston, she freakin' bargained for his freedom. Why was she surprised?!<br/><br/>Although at this point the mythology is getting out of hand, (Bitter Blood was a mess in that regard), I'm still happy to hang in there to get that happy ending I know Caine won't deprive me of.<br/><br/>As long as this series is, I'll miss it like hell.
Also in the Morganville Vampires series | View all