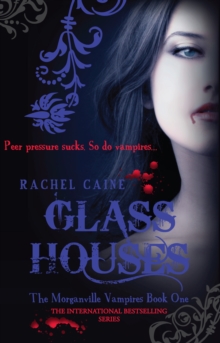 Description
College freshman Claire Danvers has had enough of her nightmarish dorm situation, where the popular girls never let her forget just where she ranks in the school's social scene: somewhere less than zero.
When Claire heads off-campus, the imposing old house where she finds a room may not be much better.
Her new roommates don't show many signs of life, but they come out fighting when the town's deepest secrets come crawling out, hungry for fresh blood...
Information
Format: Paperback
Publisher: Allison & Busby
Publication Date: 26/05/2008
Category: Fantasy
ISBN: 9780749079512
Free Home Delivery
on all orders
Pick up orders
from local bookshops
Reviews
Showing 1 - 5 of 11 reviews.
Previous | Next
Review by readingmad99
16/06/2015
I love this book!!!even though i am only half way through it it has my full attention!!
Review by elliepotten
16/06/2015
I can't believe it's taken me so long to discover this series! I picked up 'Glass Houses', the first book, this morning for a day-off read, and devoured it pretty much in one go. It's about a brilliant sixteen year-old girl, Claire Danvers, who takes an early placement at the college in Morganville, Texas, a stepping stone to greater things, only to find that she stands out even more here than she did back at school. And not in a good way. Her dorm is dominated by a tyrannical group of beautiful, sadistic girls, and when she unthinkingly humiliates Monica, their leader, their vengeance is fast and deadly. And so she moves out, stumbling into a house share with three older teens, Michael, Shane and Eve, in the strange old Glass mansion. They reveal Morganville's not-so-secret secret - that the town is run by vampires who see college kids as free food, and warn Claire that she needs to be <i>really</i> careful if she wants to survive in one piece. Who is in league with who? Who is a vampire, and who is simply in a vampire's pocket? And on top of that, is she falling for Shane? And what on earth is going on with Michael?I must say, when I started the book I expected teen paranormal fluff, and I was very pleasantly surprised. The world of the Morganville Vampires drew me right into the story from the very beginning, and Caine has placed her own twist on vampire legend and the vampire novel. The tenants of the Glass House are both engaging and sympathetic, the villains are deliciously dastardly, and Claire's voice - though the novel is written in the third person - is appealing in its naivety, honesty and humour. Unusually, I never once got to a certain point and thought, 'Right, I need a break from this," or "Okay, okay, let's get back to the good stuff already!" It was fast paced and gripping, and the story flowed well, never getting bogged down in trivia or unnecessary plot sidelines. I finished it by dinner time and needless to say, I'm very pleased to have the rest of the series waiting for me! Highly recommended for fans of YA paranormal fiction.
Review by ChaoticEclipse
16/06/2015
I have to say that I was positively surprised about this book and very much enjoyed this. I'm not usually huge fan og these kinds of books because it's just too YA for me. At least there was no sparkly vampires or going out in the sun.I liked Claire but I wished at times that she would have more spirit but I guess time for that comes later on... There was few "omg, he's so hott" scenes that could have been left out but thankfully there wasn't many of them. What I didn't gt why was it such a big deal that Claire was nearly 17 and the boy's were nearly 19? Not sure if Michael was actually 19 but anyway... I mean it's still only 2 years. I mean that's kinda normal and not in "Eww, that's gross! category. And I cant believe that the book ended on such an evil cliffhanger! That's just...wrong! Now I have to read the next book.
Review by dools46
16/06/2015
not a bad story, good for teens
Review by Shimmin
16/06/2015
A very intriguing, original YA story with some serious tension and horror moments. Although the premise sounds silly when explained, Caine manages to put it across as a deeply threatening setting, where some brave and thoroughly interesting characters struggle to remain in control, sane, and of course alive. I found the characterisation extremely compelling, with very convincing depictions of young adults, including the slight but significant graduations in outlook between different ages. The interactions were excellent and the writing gripping.My one gripe with this book is that the sequel kicked the rug out from under me completely, introducing egregious personal trauma backstories, changing the tone significantly, throwing in several plot points that make no sense in the setting, and in general completely undermining the hard work this book had done. So while I enjoyed it in isolation, I can't honestly recommend reading it unless you plan to stop shortly before the end.
Also in the Morganville Vampires series | View all