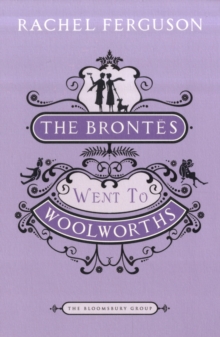 The Brontes Went to "Woolworths"
Paperback
Description
As growing up in pre-war London looms large in the lives of the Carne sisters, Deirdre, Katrine and young Sheil still share an insatiable appetite for the fantastic.
Eldest sister Deirdre is a journalist, Katrine a fledgling actress and young Sheil is still with her governess; together they live a life unchecked by their mother in their bohemian town house.
Irrepressibly imaginative, the sisters cannot resist making up stories as they have done since childhood; from their talking nursery toys, Ironface the Doll and Dion Saffyn the pierrot, to their fulsomely-imagined friendship with real high-court Judge Toddington who, since Mrs Carne did jury duty, they affectionately called Toddy. However, when Deirdre meets Toddy's real-life wife at a charity bazaar, the sisters are forced to confront the subject of their imaginings.
Will the sisters cast off the fantasies of childhood forever?
Will Toddy and his wife, Lady Mildred, accept these charmingly eccentric girls? And when fancy and reality collide, who can tell whether Ironface can really talk, whether Judge Toddington truly wears lavender silk pyjamas or whether the Brontes did indeed go to Woolworths?The Brontes Went to Woolworths is part of The Bloomsbury Group, a new library of books from the early twentieth-century chosen by readers for readers.
Information
Format: Paperback
Pages: 208 pages
Publisher: Bloomsbury Publishing PLC
Publication Date: 05/07/2009
Category: Classic fiction (pre c 1945)
ISBN: 9781408802939
Free Home Delivery
on all orders
Pick up orders
from local bookshops
Reviews
Showing 1 - 3 of 3 reviews.
Review by valerie2
16/06/2015
What to say? Loved the title, but the rest of the book just didn't live up to it. It tells the tale of the Carne family - three sisters and their mother - who seem to seem to do little else except fantasise about both real life people that they know of but have not met, and the lives their childhood toys might have lived if they were real. They create detailed stories about their lives which are discussed ad nauseum as if they were real, causing consternation for the live-in governess who struggles to separate fact from fiction. I struggled through the first half of the book, having to put it aside for a lengthy period at one stage before convincing myself to finish it. At the mid-way point I would have described it as downright stupid; by the end, mildly entertaining but really rather silly. I found the central characters more bland than charming, and the Toddingtons (the main object of their fantasising) decidedly unbelievable when, upon meeting the Carnes, they simply decided to play along with their fantasies. This is a book that some people could undoubtedly enjoy, but I'm afraid I'm not one of them!
Review by LyzzyBee
16/06/2015
17 Oct 2009 - AmazonThis book is so hard to find in Virago, the edition in which I originally read it, so when I found out from the Virago Group on LibraryThing that Bloomsbury were re-issuing it, I ordered that copy. Absolutely beautiful little book, as a first comment.I loved this. It was literally delightful. Although I'm sure I've read it before, I didn't remember much of it. In tone, style and content, it reminded me very much of Barbara Comyns - the same delightfully dotty family full of filial loyalty but what could look like barking madness from the outside. Nothing much really happens in this theatrical family, but the book is just a complete joy to read, even if reality and fiction within the fiction do tend to blend a little at times.
Review by phoebesmum
16/06/2015
This is one of the most delightful, charming, eccentric and hard-to-explain books I have ever read; I'd put it on a spiritual par with 'I Capture the Castle' and 'The Constant Nymph' - it has very little actually in common with those books, but there is something of the same feel to it. The main characters are the three Carne sisters – drama student Katrine, journalist Deirdre and schoolgirl Sheil – who, with their mother, live in London in the early 1930s and share their lives with an eclectic assortment of characters, some real, some imaginary, some part one, part the other: Ironface the doll, who married into French society and gives herself airs; Crellie the dog, who helped relieve Mafeking and who has religious leanings; a seaside pierrot known to the girls as 'Saffy', whose real life they have given a full and imaginary extra dimension of their own; and a High Court Judge, who they have (again, in their imaginations), more or less adopted as a replacement father. Woven in amongst all this are some elements of the supernatural: Deirdre has seen her father since his death; Sheil encounters a 'nature spirit' on a visit to Skye … and then there are the Brontës …Other characters get their say from time to time; the Carne's present governess, Miss Martin, for example, who finds the family's eccentricities far from charming and, although she has woes of her own to which Deirdre, at least, is not unsympathetic, eventually has to be driven away by Emily and Charlotte. Then there is the lovely, down-to-earth Mildred, wife of Lord Toddington, the judge, who turns out to be an unexpected kindred spirit.It won't be a book for everyone; I've seen a number of reviewers complain of the Carnes' snobbery, for instance. It's nothing of the kind, of course, it's simply the attitude prevalent in the period, and the book has to be read as being of its time – as does anything. I loved it almost unreservedly (although I did think it petered out rather suddenly and disappointingly), wish I had discovered it years ago, and shall most certainly reread it for comfort in times of trouble.
Also in the The Bloomsbury Group series | View all