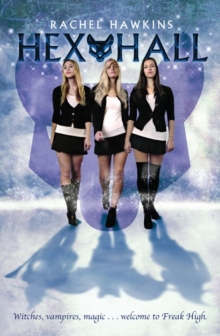 Description
In the wake of a love spell gone horribly wrong, Sophie Mercer, a sixteen-year-old witch, is shipped off to Hecate Hall, a boarding school for witches, shapeshifters and faeries.
The traumas of mortal high school are nothing compared to the goings on at "Freak High." It's bad enough that she has to deal with a trio of mean girls led by the glamorous Elodie, but it's even worse when she begins to fall for Elodie's gorgeous boyfriend, Archer Cross, and frankly terrifying that the trio are an extremely powerful coven of dark witches.
But when Sophie begins to learn the disturbing truth about her father, she is forced to face demons both metaphorical and real, and come to terms with her own growing power as a witch.
Information
Format: Paperback
Pages: 336 pages
Publisher: Simon & Schuster
Publication Date: 01/04/2010
Category: General
ISBN: 9781847387226
Other Formats
Paperback from £5.59
EPUB from £4.99
Free Home Delivery
on all orders
Pick up orders
from local bookshops
Reviews
Showing 1 - 4 of 4 reviews.
Review by Jac8604
16/06/2015
While the plot is a tad bit predictable and somewhat reminiscent of other YA paranormal novels, the humor is standout. I laughed out loud several times and, if the follow-up is a funny, I'll gladly follow this series. Plus, Sophie's an awesome heroine.
Review by lynseynewton
16/06/2015
Hex Hall by Rachel Hawkins has already been released in the U.S. but has yet to be released in the UK. I have no idea why the release dates aren't the same but I can tell you that the cover art is different. I have to say that I prefer the U.S. cover art and it's a hardback (I know, I know). The good thing about purchasing that particular copy though, besides that it is a hardback, is that it meant I could read it now as opposed to waiting for the UK release date. I started reading this last night and managed to finish it within 4 hours. It was definitely a fun read and I just love Rachel's sense of humour.The main protagonist is Sophia (Sophie) Mercer and she is a young witch. After a love spell goes horribly wrong, she is sent to Hecate Hall, or Hex Hall as it is affectionately known amongst the students, which is a reformatory school for the Prodigium. The Prodigium are made up of magical beings such as witches, warlocks, werewolves, shape shifters, fairies and vampires. Students are sent to Hex Hall when they need to be taught how to use magic more responsibly and this is why Sophie is there. Before long, strange goings on at Hex Hall put all the students in danger but will they figure out what's going on before another student is murdered?For some reason, I kept thinking of "The Worst Witch" (I loved that film when I was younger) when I first started reading but I can see why I would make that comparison. Sophie's spells always seem to go wrong, that is if she can make them work at all! Sophie was a great character and a loyal friend to her roommate Jenna, the only vampire student at Hex hall. I loved Sophie's sense of humour and humanity.There were some other great characters in Hex Hall to include both teachers and students. The headmistress Mrs. Casnoff reminded me of a motherly version of Dumbledore from Harry Potter. Archer Cross is the love interest and boy is he hot! Even though he might come across as a tad arrogant at first, you can see why Sophie cannot help herself falling for him. I could imagine doing the exact same thing in her position. I loved the fact that their relationship was not straightforward though and full of complications such as Archer's girlfriend for example. At first, this made me feel a bit uncomfortable but it could just as easily happen in real life and did Archer really like Elodie anyway? I'm not sure, I have a feeling he had an ulterior motive.There were quite a few revelations towards the end of the book that I didn't see coming and I loved the feeling of being surprised. It did however leave a lot of things left wide open and I assume these will be addressed in the sequel. "God I hope so!" is the most appropriate response I could muster at the moment. I love the fact that Rachel added some "Britishness" into the book too and you'll see what I mean when you read it. I don't want to give away too much of the story but I'm really looking forward to the sequel and will be pestering Rachel to find out when exactly that will be! The UK release date for Hex Hall is 1st April, 2010 so not long to wait now!
Review by wyvernfriend
16/06/2015
Sophie Mercer discovers she's a witch, and then she casts a spell that creates too many ripples and she's sent to a boarding school that's basically a reform school for Witches, Shapeshifters and Faeries, and a Vampire. Her roommate.It's an interesting story, there is a lot of the fish out of water issue and really she couldn't be the first person who knew nothing of the history and abilities she has before landing in the school. They really should have an entrance exam to determine what skills people have and what they need to learn!I liked it and wouldn't mind getting more in the series.
Review by 26kathryn
16/06/2015
I had heard great things about this book, and it did not disappoint. I absolutely adored Hex Hall, and it's now one of my favourite books.The characters were really interesting to read about, and not just because they were magical either. I loved Sophie, the main character, and I enjoyed seeing her relationship with Archer developing.The story line was enjoyable and I loved the mystery element of the story. The ending was a huge surprise for me and I absolutely MUST read the sequel.My only complaint about this book would be that it was over too quickly!If you haven't read this book yet I would highly recommend it. Even if, like me, you're not that keen on fantasy and magic.