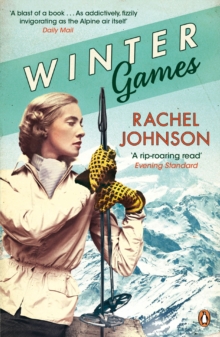 Description
Winter Games is a dazzling tale of secrets and betrayal, and the perfect novel for fans of The Bolter by Frances Osborne, and all those fascinated by the Mitford sisters. Munich, 1936. She doesn't know it, but eighteen-year old Daphne Linden has a seat in the front row of history.
Along with her best friend, Betsy Barton-Hill, and a whole bevy of other young English upper-class girls, Daphne is in Bavaria to improve her German, to go to the Opera, to be 'finished'.
It may be the Third Reich, but another war is unthinkable, and the girls are having the time of their lives.
Aren't they? London, 2006. Seventy years later and Daphne's granddaughter, Francie Fitzsimon has all the boxes ticked: large flat, successful husband, cushy job writing up holistic spas ...The hardest decision she has to make is where to go for brunch - until, that is, the discovery of a photograph of Daphne sends her on a quest to discover what really happened to her grandmother in Germany, all those years ago. A dazzling tale of secrets and betrayal, Winter Games is powerful novel of innocent lives caught up in the march of history. 'Johnson has a brilliant eye for the telling specifics ...She is a natural comic writer and has a breezy, Mitfordian tone that makes you laugh at the same time as wincing in recognition . ..To write an entertaining romp set against the backdrop of Nazi Germany is a tricky feat to pull off.
Yet Johnson has done it - and done it in style' Observer 'A rip-roaring read' Evening Standard 'There's never a dreary moment in this blast of a book ...Johnson's descriptions are irresistibly exuberant ...As addictively, fizzily invigorating as the Alpine air itself' Daily Mail 'Johnson delivers a genuine sense of time and place ...there isn't a dull sentence in this sure-footed novel' Jenny Colgan, Telegraph 'An excellent romp.
Full of 'tally-ho' Mitfordian charm ...a witty, fast read' Red 'Excellent on period detail, the blundering innocent abroad and young heartbreak' Sunday Times 'The Jane Austen of W11' Scotsman Rachel Johnson is a journalist who has written two previous novels and two volumes of diaries.
The Mummy Diaries, Notting Hell, Shire Hell and A Diary of The Lady are all available now from Penguin.
Information
Format: Paperback
Pages: 336 pages
Publisher: Penguin Books Ltd
Publication Date: 01/02/2013
ISBN: 9780141038896
Free Home Delivery
on all orders
Pick up orders
from local bookshops
Reviews
Showing 1 - 1 of 1 reviews.
Review by Yarrow
16/06/2015
I was disappointed in this book, which I disliked more and more as I read it. There are two parallel stories, one set in 1936 where young English girls hang out with Nazis in Bavaria, and another set in 2006 where a granddaughter wants to find out what happened to her grandmother (the protagonist of the historical sections).The modern day story especially is exclusively populated by deeply unpleasant characters -- and even the main protagonist, Francie, is self-absorbed and horrible, with no real personality. The author wants us to sneer at the extravagance of rich people, while at the same time describing all their possessions and houses in loving detail. Thus we end up with twaddle like "it was as if giving away more of other people's money made them [bankers, brokers and fund managers] feel better about having helped themselves to so much of it. Their largesse extended to their trophy wives -- gym bunnies nibbling on a crumb of gluten-free pecan brownie between Pilates and their child's tennis lesson -- or their nubile girlfriends." What a depressing picture of humanity, or perhaps just North London, where all these horrible people (Francie, her boring advertising husband, her odious boss, her snarky best friend...) live.The 1930s sections were better, except the protagonist Daphne isn't very dynamic, she just lets things happen around her while staring gormlessly. Frustratingly, I could tell there was a really interesting story about debutante English girls and their families enjoying Nazi Germany before the war, and their subsequent guilt after the war, but it didn't come to life here. And such a story doesn't need an unwanted pregnancy subplot.The cover is nice.