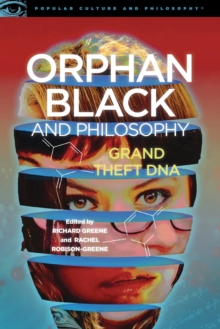 Orphan Black and Philosophy : Grand Theft DNA
Paperback / softback
Description
In Orphan Black, several apparently unconnected women discover that they are exact physical doubles -- they're illegally produced clones, and someone is having them killed.
Law enforcement is powerless to help. The clones are forced to form their own Clone Club to defend themselves. Orphan Black raises philosophical issues, as well as ethical and policy questions.
What makes a person unique? Should we have a say in whether we're cloned? Is it immoral to generate clones with built-in defects?
What does the behavior of the Clone Club tell us about the nature-nurture debate?
Is it relevant that most are heterosexual, one is a lesbian, and one is a transgendered male? Orphan Black shows us problems of biotechnology that will soon be everyday issues.
What kind of a future faces us when human clones are commonplace?
Will groups of clones have a tight bond of solidarity, making them a threat to democracy?
If the world is going to be taken over by an evil conspiracy, would a scientific cult like Neolution or a religious cult like the Prolethians be better?
Should biotech corporations be able copyright human DNA?
What rules of morality apply when you can't trust the police?
Information
Format: Paperback / softback
Pages: 288 pages
Publisher: Cricket Books, a division of Carus Publishing Co
Publication Date: 01/09/2016
Category: Television
ISBN: 9780812699203
Free Home Delivery
on all orders
Pick up orders
from local bookshops