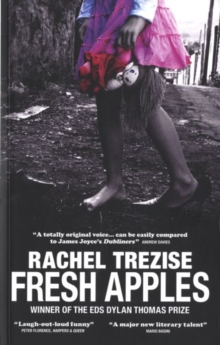 Description
Winner of the Dylan Thomas Award, this collection of short stories contains wry and defiant statements on the power and the beautiful transience of youth.
Information
Format: Paperback
Pages: 171 pages
Publisher: Parthian Books
Publication Date: 01/01/2006
ISBN: 9781902638911
Free Home Delivery
on all orders
Pick up orders
from local bookshops
Reviews
Showing 1 - 1 of 1 reviews.
Review by miss_read
16/06/2015
I heard Rachel Trezise read from this collection of short stories at last year's Hay Winter Weekend, and was so impressed. She read "Chickens," and to me it sounded more like Dylan Thomas than James Joyce (with whom she's more frequently compared). I bought the book, but hadn't read it until now. In the meantime, a fellow LT reader told me that he found it full of "young people mired in a slough of despond," and that he couldn't wait to get the experience over with! I can't help but agree with him in a way but, taken as a whole, Trezise's writing is quite remarkable - not just for someone of her age (she was 27 when the collection was published).All of the stories included here are about young people in the working class mining valleys of South Wales. Their lives seem to revolve around music, sex, drugs and junk food. There's an overriding feeling of despair, desperation and a longing to escape that hangs over all the stories, however, and that's what makes Trezise so good. I did feel more than a little uncomfortable after reading so much about violence, poverty and destruction, but Trezise's writing made up for that. "Johnny Mental was sitting on his porch wearing sunglasses, drinking lager, his teeth orange and ugly. Someone was painting their front door a few yards away, with a portable radio playing soul music; Diana Ross or some shit. A big burgundy Vauxhall Cavalier came around the corner, real slow like an old man on a hill." "Sylvia Plath said that pastry baking created some order in her otherwise chaotic life. Then one day, she baked her own head. Another girl dominated by the melancholic undercurrent that runs through life like a river; the hissing sound we're all trying to drown out. But they didn't make ovens like they used to."Yes, the picture Trezise paints is a bleak one, but the beautiful rawness of her writing makes it compelling - if disturbing - reading.