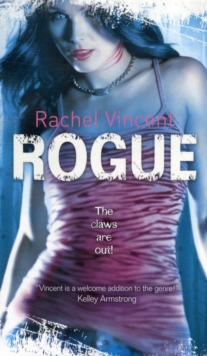 Description
Rebellious werecat Faythe is shocked when the bodies of murdered men begin turning up in her Pride's territory, especially as the killings can be traced back to her former life as an ordinary college student.
But could a message from an old friend provide a chilling clue?
Faythe knows that a past indiscretion may have led to these men's deaths.
She also risks exposing her family's supernatural secret.
Faced with a terrifying choice, Faythe must decide: pray the tribal council grant her mercy - or risk everything to pursue her own brand of justice.
Information
Format: Paperback
Pages: 400 pages
Publisher: HarperCollins Publishers
Publication Date: 21/08/2009
Category: Fantasy
ISBN: 9780778303404
Free Home Delivery
on all orders
Pick up orders
from local bookshops
Reviews
Showing 1 - 4 of 4 reviews.
Review by red_dianthus
16/06/2015
I really got annoyed at the main character in this one. In the first book I found her mildly annoying, this time I just wanted her to get a clue. yet, the story is interesting enough that I just requested the next book from the library.
Review by joyfiction
16/06/2015
A fun foray into the paranormal. Thoroughly enjoyable. A definite fun read.
Review by Tynga
16/06/2015
Faythe is holding on her part of the deals she made with her father in Stray. She is working as an enforcer for him, and is lucky enough to be paired up with Marc, Alpha's right-hand, enforcer and boyfriend - sometimes. This is another action-packed novel and multiple events which seems unrelated at first, are all part of one big puzzle. An unknown cat is calling to report dead tomcats, human strippers are going missing in multiple areas, Faythe's ex-boyfriend, Andrews, is calling her with weird declarations. How all of this mix together? Well you'll have to read the book to find out =)Romance wise, Faythe is kind of back with Marc in a no strings-attached relationship, Jace keeps to himself more then ever and like mentioned before, Andrews gets back in the big picture. Nothing is simple when a series of event blurs all our tabby was counting on.I loved Stray and I wasn't let down by Rogue. I LOVE the series, in fact Pride and Prey are in a nice package on there way to my place right now *winks*. Rachel as a very personal way to put her characters to life, you really feel like you know them personally, and yet, they always surprise you with their course of action. I like the relationship between the pride, all of the boys have something special and unique and you care about them. Faythe and Marc are indeed my favorite but Owen isn't far behind.The plot is very nicely knot and I couldn't guess most of the action before hand. Actually the only things I guessed was Andrews new status and who his accomplice was. The end makes you dies for more, it's cruel to keep readers on a hook like Rachel! *smiles* Thankfully I discovered this series not long ago so I only have to wait until Monday for my delivery haha!Seriously if you haven't picked that series yet go and do it! I was holding back because I read bad comments on amazon but when I cruised the blogging network I realised that the series have many fans out there, so I picked it up and I don't regret it!
Review by Amberlouichu
23/09/2015
This is a hard book to rate simply because it there were moments I was rolling my eyes and getting fed up but then the next chapter would be a gripping moment and action that flipped the pages.The female protagonist, Faythe, has a bad attitude with people and can be rude, make awful decisions though she IS smart (when she allows herself to be), very arrogant to think she's above people, acts childishly and impulsively and she is stubborn; pretty much a young teenager... Except she's supposed to be 23 and "independent". Thing is, although she can be annoying, you can also sympathise with her for the amount of pressure put upon her just for being who she is and being somewhat trapped in a cage she wants to escape but can't without dishonouring her family and her Alpha father. She's a very "marmite" character but she is relatable. There are characters I love to read about and love their build up, development and personalities (Ethan, Owen, Jace, Parker, VIC, their father and even Ryan) but there are some that just grate on me (MARC, Michael and Andrew in this book). On the whole thought they're all interesting to read about just, especially with Marc and Michael, I just want to put tape over their mouths and give them "the look" to dare them to challenge me.Mark is also impulsive, violent and pushy which I don't enjoy reading because most of the time it's over something tiny. Michael is such a suck up and outright rude in this book and Andrew was just irritating; I don't emotionally care about these characters enough to react the way the author wanted me to? I don't know...Though all the other character I absolutely love for different reasons so it balances out :)One of the things that REALLY bugged me in this book was the amount of "flashback" to past events when they've already been mentioned before in the same book like when Faythe keeps bringing up the cage. I understand that it's to understand why she's feeling and acting the way she is but it's repeatedly mentioned which is annoying and drags out the book a little.Overall, reading Faythe's thought processes is great (even when you work something out long before she does) and you can really feel like you're in the room with her and you can really connect with (most of) the characters enough to really care about their wellbeing. Rachel Vincent's writing style is easy to read and flows nicely. There's a few issues with the pacing of the book but that can be overlooked once you reach the final page, seriously :)3 1/2 stars because I loved the majority of characters and loved reading about them but the whole Faythe/Marc thing... They're both acting like children and even when Faythe is honest with Marc he's thrashing about like a child asked to share his favourite toy and it makes some part of the book hard to read since the majority of this book is centred on their relationship. Still looking forward to reading the next book though!!