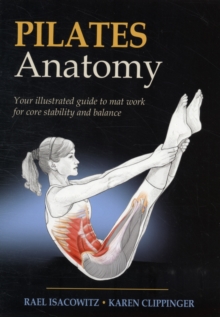 Pilates Anatomy
Paperback
Description
This title includes Pilates as you've never seen it before!
With detailed descriptions, step-by-step instruction and stunning full-colour anatomical illustrations, "Pilates Anatomy" takes you inside the exercises and programmes that will tone the body, stabilise the core, improve balance and increase flexibility.
Using the original mat work of Joseph Pilates, you'll see how key muscles are used, how variations and minor adjustments can influence effectiveness and how breathing, alignment, posture and movement are all fundamentally linked.
Information
Format: Paperback
Pages: 216 pages, 213 Illustrations, color; 243 Halftones, color
Publisher: Human Kinetics Publishers
Publication Date: 10/03/2011
Category: Anatomy
ISBN: 9780736083867
Free Home Delivery
on all orders
Pick up orders
from local bookshops
Reviews
Showing 1 - 5 of 8 reviews.
Previous | Next
Review by DanaJean
16/06/2015
Pilates Anatomy is an in-depth look at the physical and mental aspects of a system that is more than just exercise. The authors identify the principals that are key to understanding and successfully performing Pilate movements and discuss each with intricate attention to detail (including anatomical drawings of muscle and bone positions and movements) in such a thorough way. This fact alone may put off people interested in Pilates as the book, at times, was very medical in its approach. I liked the detail myself, but I'm not sure someone new to the principal would really take the time to read those areas, skipping straight to the featured movements.The book also has a section to customize our own programs, from the fundamentals through advanced movement and I found the exercise finder in the back of the book for quick reference a nice touch.The authors have also included sections discussing modification of movements for positions that a person may find awkward or difficult, variations of moves, exercise notes and technique cues which are easy to understand and helpful. And, after focusing on the muscles in their drawings, I came to pay close attention to the targeted muscle overview after each Pilates movement. Overall, I would recommend this book especially to beginners who need to understand the basic principals and how a body is put together to move with optimum strength, skill and grace.
Review by ocho60
16/06/2015
This book reminded me of an attempt to have a Pilates version of The Anatomy of Hatha Yoga by H. David Coulter. Operating under layman's interest (vs any sort of expertise) in human anatomy and Pilates, I found the book to be potentially advantageous as a reference for instructors who have some level of serious study in both anatomy and Pilates. While the graphics and muscle nomenclature was quite dense, I found there was opportunity to integrate into each exercise section both 'good' and 'bad' tendencies of those who practice Pilates - and practical advice on what to avoid and why.
Review by Ferdaszewski
16/06/2015
A great reference book with detailed illustrations. This book is similar to [Yoga Anatomy] published by the same company. Both books do a great job of explaining the basics and giving step-by-step instructions for the movements. The anatomical illustrations really help you understand what is happening.
Review by quilted_kat
16/06/2015
Pilates Anatomy offers a basic Pilates course covering the six key principles of Pilates, all of the core exercises, and guidance for creating Pilates routines. Pilates Anatomy is nearly identical in these outlines to the countless other comprehensive Pilates guides that are currently in print. Where this book stands unique is through its amazingly detailed illustrations showing the specific muscle groups and skeletal structures that are involved in each exercise. Pilates Anatomy is a good, thorough guide for the amateur or serious student of any Pilates or physical therapy program.
Review by kssunflower
16/06/2015
Pilates has splintered into many "schools or approaches," much like yoga, leaving some of us confused as to which version is closest to the original. This book is as close to the original as is possible, so you can relax in the knowledge that reading it will give you an in-depth understanding of the original intent. That understanding will serve you well regardless which variation of the technique you later wish to pursue or, if you are already immersed in a variation, you will gain a deeper understanding of how your program may vary and why.It's no surprise that this is a beautifully illustrated and well-written guide to how Pilates affects our musculature considering that one of the authors, Rael Isacowitz, has studied for three decades with the first-generation of students who had been directly taught by Joseph and Claire Pilates. Furthermore, this text has been based on one of two books written by Joseph Pilates himself, Return to Life Through Contrology. This direct-lineage is important if you value authenticity. Pilates is wildly popular because it works. Getting information from the source is crucial to understanding how and why it works and making it work more effectively. Students of Reiki know that their teachers will authenticate how many "removes" they are from the originator of the techniques. Knowing you are getting information and counsel from someone who is only "two removes" from Pilates himself is important in the same way.The other author, Karen Clippinger, brings over three decades of experience in teaching anatomy, devoting more than half of that time to bringing Pilates into academic and rehabilitation centers. That these two incredibly experienced and talented people would come together to develop this book is a blessing to teachers and students of Pilates because it does not exclude any varying interpretation of Pilates; it provides a foundation for and an enhancement of each.If you don't include an understanding of anatomy in your teaching or practice of Pilates, you undermine its effectiveness. With a solid appreciation of how each movement utilizes and affects specific muscle groups, you can maximize your practice and minimize injuries. This book allows you to see those groups and that helps you visualize your movements in a way that mere words cannot achieve.What I found particularly useful was understanding the six key principles: breathing, concentrating, centering, controlling, being precise, and flowing from one movement into another. After all, Pilates called his system contrology so knowing how to control or make the connection between your mind and body is essential.Be sure to read the discussion on the Science of Breathing because, unless you breath properly, you are essentially wasting your time in any exercise. You need to oxygenate your muscles to allow them to perform well, and proper breathing will make you feel as healthier and exercise more effectively. Students of yoga and meditation already know how important disciplined breath is and will appreciate the emphasis and explanations in this book.As I age, I find it increasing difficult to maintain a youthful posture. I slump and sag with stress and fatigue and long for more upright posture and smoother, more graceful carriage. Iscaowitz and Clippinger cannot guarantee that I get back to that state, but their discussion of what proper alignment of the spine and the function of core muscles surely puts me firmly on the path back to a healthier and happier state of being.Make no mistake, this is a book for mat work. I own a Pilates machine, but this book is going to have me back on the floor as well. You will see exactly how you should place and align your body. They tell you how to execute each movement, which muscles are directly affected and which muscles offer secondary support to the movement. There are lists of clues to making each movement more effective as well as suggestions for modifications and variations. I enjoyed the Exercise Notes in particular because the notes provide the context and purpose of each movement which helps someone like me who follows instruction much better if I know the rationale behind them. The authors not only discuss what to do, how to do it, but why doing it is important.I also liked the section on how to customize your own Pilates program and the Exercise Finder at the end of the book. The Exercise Finder helps you understand which of the modern movements were not in the original text of Joseph Pilates in case that is important to you. This book complements everything I've learned as a Reiki Master and as beginning student of yoga because its emphasis is on understanding and respecting your body, breath, and the mind-body connection. I consider this an important addition to my library and am grateful I was granted a chance to review it through the Library Thing's Early Reviewer program.Human Kinetics, the publisher, has once again gathered an impressive graphic arts team and the illustrations of Molly Borman clarify and communicate the information necessary to understand how the movements involve and impact the body. From the early general discussions of breathing and skeletal structures to the specific movements, the illustrations make the instructions and cautions come alive. If there are specific parts of your body where you want to effect change these illustrations will help you visualize the process and results. That alone makes the book worth more than its modest price. Being able to know how what you are doing is actually working makes this book invaluable.