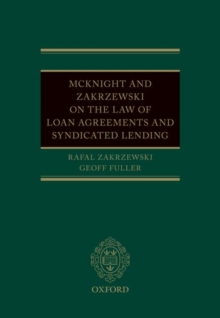 McKnight and Zakrzewski on The Law of Loan Agreements and Syndicated Lending
Hardback
Description
Based on parts of the leading work McKnight, Paterson, and Zakrzewski on the Law of International Finance, 2e, this new book is an accessible introduction to loan agreements in English law and practice.
The book focusses on loan agreements, syndicates of lenders and trading providing the core areas with which newcomers to banking and finance law must familiarize themselves and which often require research.
The book opens with an overview of English contract law setting out the key concepts and principles relevant to commercial lending transactions.
There is a section on loan facility agreements which explains the structure and typical provisions of loan agreements, and the relevant law and its application to those agreements.
In the section on syndicated lending, legal issues arising from the relationship within a group of lenders are analysed and problem areas are tackled.
Potential claims, byborrowers against the arrangers of a syndicate and its agent are also analysed, including the very important issue of possible protection against such claims.
The final part of the book explains the legal and practical issues surrounding trading in parts of loans on the secondary market. A clear, concise and authoritative work on loan agreements and lending, this book is a useful guide for all working in the field, particularly lawyers who need an accessible but comprehensive review of English law in this area and postgraduate students.
Information
Format: Hardback
Pages: 352 pages
Publisher: Oxford University Press
Publication Date: 25/10/2018
Category: Contract law
ISBN: 9780198799948
Free Home Delivery
on all orders
Pick up orders
from local bookshops