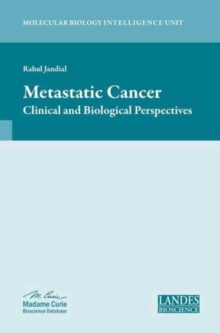 Metastatic Cancer: Clinical and Biological Perspectives
Hardback
Description
Most cancer deaths are a result of metastasis. The spread of a primary tumor to colonize neighboring and distant organs is the relentless endgame that defines the neoplastic process.
Patients who have been diagnosed with cancer are treated to prevent both the recurrence of the tumor at the site of origin and metastasis that would re-stage them as advanced stage IV cancer.
Historically and still with some types of cancer, stage IV is perceived by patients as "terminal." Fortunately, recent molecular therapies have extended the lives of patients with advanced cancer and reassuringly people living with metastatic disease increasingly visit our clinics. What is the path forward? Given that the consilience of science and medicine is a dynamic art from which therapies arise, it would be misguided to consider any single work adequate at capturing the horizon for research.
So with humility we constructed this text as primer for scientists.
It begins with a broad introduction to the clinical management of common cancers.
This is intended to serve as a foundation for investigators to consider when developing basic science hypotheses.
Unquestionably, medical and surgical care of cancer patients reveals biology and dictates how novel therapeutics will ultimately be evaluated in clinical trials.
The second section of this text offers provocative and evolving insights that underscore the breadth of science involved in the elucidation of cancer metastasis biology.
The text concludes with information that integrates scientific and clinical foundations to highlight translational research. This book serves as a framework for scientists to conceptualize clinical and translational knowledge on the complexity of disease that is metastatic cancer.
Information
Format: Hardback
Pages: 312 pages, 41 Illustrations, black and white
Publisher: Taylor & Francis Ltd
Publication Date: 08/08/2013
Category: Oncology
ISBN: 9781587066597
Free Home Delivery
on all orders
Pick up orders
from local bookshops