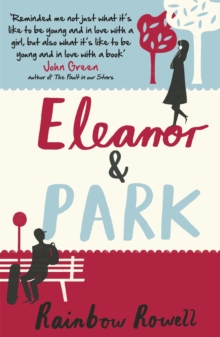 Description
'Reminded me not just what it's like to be young and in love, but what it's like to be young and in love with a book' John Green, author of The Fault in our StarsEleanor is the new girl in town, and she's never felt more alone.
All mismatched clothes, mad red hair and chaotic home life, she couldn't stick out more if she tried.Then she takes the seat on the bus next to Park.
Quiet, careful and - in Eleanor's eyes - impossibly cool, Park's worked out that flying under the radar is the best way to get by.
Slowly, steadily, through late-night conversations and an ever-growing stack of mix tapes, Eleanor and Park fall in love.
They fall in love the way you do the first time, when you're 16, and you have nothing and everything to lose.Set over the course of one school year in 1986, Eleanor & Park is funny, sad, shocking and true - an exquisite nostalgia trip for anyone who has never forgotten their first love.
Information
Format: Paperback
Pages: 336 pages
Publisher: Orion Publishing Co
Publication Date: 01/02/2013
ISBN: 9781409120544
Other Formats
Paperback from £6.49
EPUB from £4.99
Free Home Delivery
on all orders
Pick up orders
from local bookshops
Reviews
Showing 1 - 5 of 5 reviews.
Review by TPauSilver
16/06/2015
Eleanor and Park is a story about two beautiful, broken, real teenagers meeting on a bus and falling in love. Park is the half-Korean guy with a tenuous hold on the okay side of the social ladder. Eleanor is the fat girl with bright red hair and weird clothing. They fall in love on the school bus by sharing comics. Eleanor and Park isn't in the plot, it's in the characters and the language. Any description of what happens will ultimately stumble on the fact that the simple answer is not a lot. That doesn't matter. The beauty is in the words and the characters. Elanor is the most realistic broken awkward teen I've ever read. She'd got a life that's, to put it bluntly, shit. She has no money, no privacy, no freedom and nobody to fight her corner. She's frightened and fighting not to show it, defensive and sometimes cruel. Park is the different boy. The half-Korean trying to stay below the radar and find out where he falls in relation to the idea of American manhood. There are beautiful descriptions of their thoughts and of their touches. But, really, it's all in the characters.
Review by ashleynicole1030
16/06/2015
Review by Yvaine_Thorn
16/06/2015
I liked this book, I like the main characters and how deep and different they were, I found the story surrounding Eleanor truly interesting and moving, and I <u>really</u> liked the writing. <br/>Unfortunately, I didn't love it. I heard a lot of people raving about it and talking about how they cried or were heartbroken by the ending. And having heard that I expected something different from it. I get that it is mainly a love story, but I seemed to focus more on Eleanor's family life. <spoiler> And if you focus on that the ending wasn't really sad, I mean she broke free from her stepdad, she has a good life with her uncle and aunt now.. Yes, she broke contact with Park and it made me a bit sad, but it wasn't such a big deal to me. What did disturb me was not knowing what happened to the rest of her family, are they all ok? is Maisie just going to become Richie's the next victim? </spoiler>
Review by lisa.isselee
16/06/2015
I liked this book a lot, I liked the fact that the main characters were normal teenagers,<br/>not some preppy perfect kids where it's all rose petals and moonshine.<br/>The book displayed some real life issues that made this book feel that much more real.<br/>It was beautifully written, showing both perspectives.<br/>It had me wanting more !
Review by RettaRyan
16/06/2015
I picked this book as part of my Uni course as we had to read a book that was on the banded list. After reading the uproar this book created I wasn't sure what to expect, but my surprise and delight Eleanor & Park turned out to be one of the best books I have read this year. It staggers me that there are people our there that feel the story that this book tells needs to be censored I don't understand it. This book is beautifully written and I encouraged my 14 year old son to also read it as it covers in a delicate way issues that he and his mates could or need to face in the future. The only criticism I have is the ending I needed more to tie everything up nicely, but that may be just my thing.