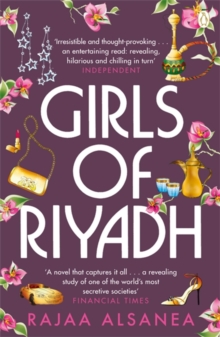 Girls of Riyadh
Paperback
Description
Gamrah's faith in her new husband is not exactly returned ...Sadeem is a little too willing to please her fiance ...Michelle is half-American and the wrong class for her boyfriend's family ...While Lamees works hard with little time for love.The girls of Riyadh are young, attractive and living by Saudi Arabia's strict cultural traditions.
Well, not quite. In-between sneaking out behind their parents' backs, dating, shopping, watching American TV and having fun, they're still trying to be good little Muslim girls.
That is, pleasing their families and their men.But can you be a twenty-first century girl and a Saudi girl?
Information
Format: Paperback
Pages: 320 pages, no pictures
Publisher: Penguin Books Ltd
Publication Date: 05/06/2008
ISBN: 9780141030616
Free Home Delivery
on all orders
Pick up orders
from local bookshops
Reviews
Showing 1 - 3 of 3 reviews.
Review by LyzzyBee
16/06/2015
Acquired via BookCrossing 11 Dec 2009 - BCBirmingham Secret Santa giftA nameless Saudi woman starts sending out a weekly email highlighting the doings of a group of female friends from the "velvet" - the highest - level of society. Although they come from good families with plenty of money, opportunities for travel etc, their lives are full of the same worries as other women of their age - studying, how to find love, friendship - and also of the constraints of their society. We see them try to pick a path between personal fulfillment and matching their families' and society's expectations; I was aware of quite a lot of the issues they face such as the terrible shame of divorce, etc, but I think the attractive chick-lit cover might well bring new readers who would learn quite a lot. The women are feisty and see their men clearly in the end, and there are no sugary-sweet happy endings or silly coincidences. A really good read, a celebration of friendship, and some important issues are highlighted.I'll be offering this on a bookring soon.
Review by imyril
16/06/2015
Sadeem, Gamrah, Lamees and Mashael are 'velvet' class girls in their first year of university: rich, privileged, and constantly brushing up against the strictures of Saudi society. They accept the teachings of Islam without question, but they long for love and hope to find men of their own choosing who will accept them as the free-spirited thinkers that they try to be.On the surface of it, this is exactly the sort of book I hate: chick lit, in which 4 smart, independent girls define themselves almost entirely through their (much-imagined) love lives. The book is entirely given over to their dreams and heartbreak. But I didn't hate it. I swept through it rapidly, intrigued by the conflict between the girls aspirations and their situation, and fascinated by this rare glimpse into a society I know fairly little about: Saudi Arabia.Ultimately, it is a paean to the right to make your own choices; to abandon social prejudices (or at least some of them; the section dealing with a Sunni/Shiite friendship remains awkwardly underdeveloped - crossing this religious boundary seems to remain beyond the pale); and a rallying cry to recognise the value of a smart, independent woman rather than abandon her for an uneducated, sheltered girl who can be dominated. A searing moment - a critic writing in to question why a man wouldn't marry another man if he was looking for that sort of relationship. Ouch. But it is worth noting that it focuses strictly on a class showered with money and privilege. Compared with less well-off girls, the friends are bemoaning the cultural equivalent of #firstworldproblems - I was reminded of A Thousand Splendid Suns precisely because there are no similarities here. Regardless, this was a good read and I'm glad I finally got to it.
Review by iansales
16/06/2015
This was apparently a bit of a phenomenon when it was published, a Sex & the City take on Saudi society by a young Saudi woman studying in the US. It's a shame then that it's all a bit juvenile. It's presented as a serial told via email by the author, who prefaces each chapter with an email "answering" some of the responses she's received to the previous chapter. The story itself is about four young women – Lamees, Michelle, Gamrah and Sadeem. Gamrah marries Rashid, and travels with him to the US, where he is studying. But he seems more interested in a prior US girlfriend, and Gamrah finds it hard to cope with life in the West. She returns to Riyadh, pregnant. Sadeem falls in love, arrangements are made, contracts exchanged, but a couple of days before the ceremony she succumbs to his blandishments and lets him take it too far… so he divorces her. Michelle falls for a young man from a good family, but his mother won't hear of her son marrying beneath him, so he breaks it off. And Lamees is a bit of wild thing, making friends with Shi'ites, visiting chat rooms, and getting arrested for meeting a young man in a café. And other things happen too. While it shows the appalling treatment of women in Saudi well, and I realise English is not the writer's first language, but it is the translator's, this could really have done with a lot of a polish. The novel is structured to look like the titillating adventures of an amateur writer, and the prose reads like it was written by an amateur too.