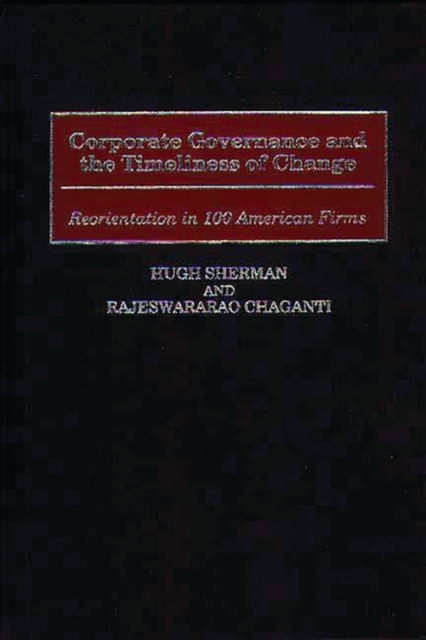 Corporate Governance and the Timeliness of Change : Reorientation in 100 American Firms
Hardback
Description
The ability to implement change quickly is crucial to an organizations's success-not only in traditionally sedate industries, but also in today's fast-moving hi-tech ones.
Sherman and Chaganti, from their study of 100 American corporations, half in stable industries, half in volatile ones, find that a firm's structure of governance bears heavily on the speed with which the firm can reorient itself.
What are the characteristics of firms that change quickly?
What inhibits others? And what, precisely, is the impact of a firm's stockholders, board and top management on its ability to adapt?
Sherman and Chaganti provide answers to these and other questions, in the first book yet to focus entirely on the determinants of time in corporate reorientations. In order for a firm to develop or sustain a competitive advantage, it must not only adapt correctly to environmental change, but also adapt quickly.
This study examines the factors associated with the time a firm takes to initiate reorientation.
The results of the research indicate that even in relatively large organizations, reorientations are not rare and occur routinely.
Further, deterioration of a firm's financial condition tends to hasten its initiation of reorientation.
However, the determinants of time taken to initiate reorientation differ in firms with relatively high prior performance and firms with relatively low prior performance.
Information
Format:Hardback
Pages:176 pages
Publisher:Bloomsbury Publishing Plc
Publication Date:27/08/1998
Category:
ISBN:9781567200874
Information
Format:Hardback
Pages:176 pages
Publisher:Bloomsbury Publishing Plc
Publication Date:27/08/1998
Category:
ISBN:9781567200874