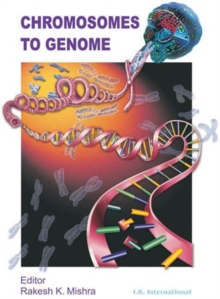 Chromosomes to Genome
Hardback
Description
The increasing number of complete genome sequences in the past decade has enhanced our understanding of the chromosomal basis of genetic inheritance on a molecular level.
Chromosomes to Genome presents the historical perspective, as well as the current state of this journey from chromosomes to genome.
The book discusses complex topics in a simplified manner that is accessible to any student of biology.
Each chapter provides a historical account of the field and reviews the recent work in this area, as well as puts the subject in appropriate perspective and makes reading enjoyable.
The book provides a "genomic account" of the evolutionary history of emergence of complexity from simple living systems.
It also gives glimpses of intricate regulatory mechanisms that act on genomic information during differentiation of different cell types.
Each chapter is written by well-known practising scientists leading very active and competitive groups engaged in unravelling the secrets hidden in the complex trail of DNA double helix in the immensely dense forest of a eukaryotic nucleus.
The availability of a large number of genomes and emergence of new technologies has boosted the speed and scale of research chromosome biology and genomics to an unprecedented level.
Each chapter reflects this dynamic and exciting aspect.
From how a genome is packaged within the nucleus to bring out the complexity of eukaryotic gene regulation to how, when anything goes wrong with this process, disease conditions set in, this book covers landmark aspects of modern biology of genetic inheritance.
While it serves as valuable reference for experts as well as students in the field of molecular genetics, cytogenetics and genomics, the book is also accessible to those with more general interest in biology.
Information
Format: Hardback
Pages: 226 pages
Publisher: I K International Publishing House Pvt. Ltd
Publication Date: 31/01/2009
Category: Genetics (non-medical)
ISBN: 9789380026213
Free Home Delivery
on all orders
Pick up orders
from local bookshops