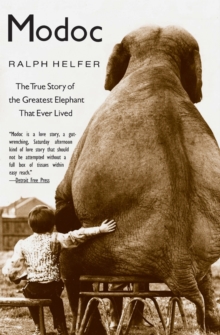 Modoc : The True Story of the Greatest Elephant That Ever Lived
Paperback
Description
Spanning several decades and three continents, Modoc is one of the most amazing true animal stories ever told.
Raised together in a small German circus town, a boy and an elephant formed a bond that would last their entire lives, and would be tested time and again; through a near-fatal shipwreck in the Indian Ocean, an apprenticeship with the legendary Mahout elephant trainers in the Indian teak forests, and their eventual rise to circus stardom in 1940s New York City.Modoc is a captivating true story of loyalty, friendship, and high adventure, to be treasured by animal lovers everywhere.
Information
Format: Paperback
Pages: 352 pages
Publisher: HarperCollins Publishers Inc
Publication Date: 29/07/1998
Category: Circus
ISBN: 9780060929510
Free Home Delivery
on all orders
Pick up orders
from local bookshops
Reviews
Showing 1 - 5 of 20 reviews.
Previous | Next
Review by corgidog2
16/06/2015
A touching story of an elephant and her mahout of seventy eight years, the elephant's whole life.
Review by dulcibelle
16/06/2015
Helfer is the owner/operator of Africa, USA - the Hollywood company that supplied many of the animals for movies and TV shows; most notably Clarance the Cross-Eyed Lion and Judy the Chimp from Daktari (a series from the '60's). Modoc is the first elephant he had in his stable. Helfer met Modoc when she was already in her 30's. He later met (and worked with) Modoc's original handler (Bram Gunterstein) who told him Modoc's story. And what a story it is!! Modoc and Bram were born on the same day in a little German circus. They were shipwrecked in the Indian Ocean, adopted by an Indian maharajah, employed in the teak jungles, hijacked by rebels, brought to the US as star circus performers, separated by a cruel twist of fate, and later reunited by Helfer. It's animal adventure in the tradition of [Lassie, Come Home] or [Lad, A Dog] - and it's all true.
Review by bblum
16/06/2015
A great read; it was an unexpected adventure story that started in Germany, with survival adventures in India, and a circus nemesis named Mr. North in the USA. Fast moving and engaging and despite Modoc being trained for the circus this is not a circus story. Main characters are Bram, the boy who grows up with Modoc and becomes his trainer and friend, Gertie, the girlfriend and Mr.North the evil circus owner who buys Modoc but hates Bram because he is a Jew. The story startes in the 1930's in Germany, moves to India due to a storm that sinks the ship carrying the circus to the US and eventually to the USA over 70 years. Each chapter is very exciting with adventures of survival and bravery. There is real devotion between Bram and Modoc.
Review by caymil
16/06/2015
I actually had this book for some time before I started reading it, because I wasn't really sure if I would enjoy it. I ended up enjoying it very much and will likely hold on to it to read a second time. That is high praise coming from me because I rarely read the same book twice. This is an incredible story of adventure, friendship, and love. It is essential reading if you are an animal lover and highly recommended if you are not.
Review by nicole_a_davis
16/06/2015
This is supposed to be a true story, but the writing is so weak and unconvincing, I have a hard time believing it. It is written like a novel, with little indication of how the author knows any of the information, and with such shallow characterizations that the story comes across as a complete fairy tale. There is little indication of passage of time, settings are not well described, the plot borders on being preposterous and the main character talks and acts as if he is a five year old throughout. If any of this story is true, it is really sad that this is how this elephant's life will live on.
Also by Ralph Helfer