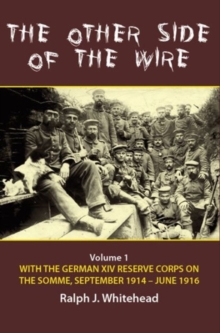 Other Side of the Wire Volume 1 : With the German XIV Reserve Corps on the Somme, September 1914-June 1916
Paperback / softback
Description
The Other Side of the Wire brings to life a period long forgotten in the decades that have passed since the Great War ended in 1918.
Until recently most books written on the Battle of the Somme concentrated almost exclusively on the British effort with only a brief mention of the period before 1 July 1916 and the German experience in the battle.
Most simply ignore the nearly two years of warfare that preceded the momentous offensive.
By focusing on one of the principal German formations involved in the Somme fighting, author Ralph Whitehead brings to life this little-known period, from the initial German advance on the Somme in September 1914 through the formation of the front that became so well known almost two years later.
The book covers the early fighting around villages that took on such notoriety in 1916: Serre, Beaumont-Hamel, Thiepval, Ovillers, La Boisselle and Fricourt among others.
The events that took place on the Somme between September 1914 and June 1916 would slowly but surely turn the once rolling farmland into a veritable fortress.
The author brings a sense of humanity to the story of the war using the words of the men who fought on the Somme, many of them from previously unpublished diaries and Feldpost letters.
The book takes the reader from the initial German invasion of the Somme through to the end of June 1916, the eve of the Somme Offensive.
The reader can experience the start of trench warfare, French attacks in 1914 and 1915 and the implementation of trench raids and how they developed over time.
The start of mine warfare, artillery tactics, life in the rear areas and the arrival of the British are covered in detail. A detailed casualty list is included for seven regiments of infantry and artillery for the period September 1914 through June 1916 in an effort to give some scale to the losses suffered by the Germans on the Somme during this period.
One unique aspect of the book is the hundreds of photographs of the men who actually fought in the XIV Reserve Corps, many never published before and taken from the author's personal collection.
Overall, the book features nearly 350 photographs, many previously unpublished, giving a unique insight into the German forces on the Somme 1914-16.
Information
Format: Paperback / softback
Pages: 614 pages, c 350 b/w photos, 33 maps, plus docs, tables
Publisher: Helion & Company
Publication Date: 15/04/2013
Category: European history
ISBN: 9781908916891
Free Home Delivery
on all orders
Pick up orders
from local bookshops
Also by Ralph J. Whitehead