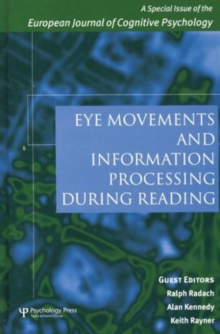 Eye Movements and Information Processing During Reading : A Special Issue of the European Journal of Cognitive Psychology
Paperback / softback
Description
Measurement and analysis of eye movements are two of the most powerful ways to study the workings of the human mind.
This Special Issue on eye movements and information processing in reading presents an overview of experimental research based on this methodology.
Eye movements provide a unique opportunity to examine principles of human information processing in a well-structured visual environment while people engage in a natural cognitive task.
At the same time, oculomotor measures can be used as a tool to develop and test psycholinguistic hypotheses about the processing of written language.
The papers in this issue contribute to both aspects, addressing issues that dominate current debates in the field.
Seen from the angle of visual information processing, a major theme is the role played by parafoveal information for different types and levels of processing and for oculomotor control in reading.
This includes effects of visual and linguistic word properties on the selection of words for fixation and the specification of saccade amplitudes.
Clearly the most controversial question in this context concerns the allocation of attention, with positions ranging from a sequentially moving spotlight to a gradient of spatially distributed processing.
Related to this is the issue of serial vs. parallel word processing and the fundamental question as to what extent the duration of fixations in reading is related to lexical processing.
Taking a psycholinguistic perspective, the topics addressed include several levels of language processing from orthography to pragmatic information in sentence reading.
New approaches to the study of morphologically complex words are reported, together with novel work revealing the complex nature of the apparently accessible, but elusive, concept of word frequency.
Other papers reflect current theoretical discussions centered on the development of computational models of the reading process and contribute to the empirical base of these discussions. Taken together, this collection of papers, supplemented by an introduction to the field and a commentary on major issues, presents a comprehensive and up-to-date perspective on a research area currently characterised by numerous theoretical and empirical disputes.
The papers will be of particular appeal to readers interested in basic and applied psycholinguistics, attention and visual perception, motor control and the modelling of complex cognitive processes.
Information
Format: Paperback / softback
Pages: 360 pages
Publisher: Taylor & Francis Ltd
Publication Date: 30/11/2018
Category: Psycholinguistics
ISBN: 9781138883307
Free Home Delivery
on all orders
Pick up orders
from local bookshops
Also in the Special Issues of the Journal of Cognitive Psychology series | View all