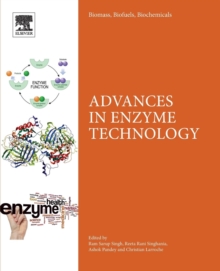 Biomass, Biofuels, Biochemicals : Advances in Enzyme Technology
Paperback / softback
Description
Biomass, Biofuels and Biochemicals: Advances in Enzyme Technology provides state-of-the-art information on the fundamental aspects and current perspectives in enzyme technology to graduate students, postgraduates and researchers working in industry and academia.
The book provides information about the use of enzyme technology as an important tool for biotechnological processes, including food, feed, fuels, textiles, paper, energy and environmental applications.
The search for improvements in existing enzyme-catalyzed processes dictates the need to update information on various enzyme technologies.
The book gives a snapshot of current practice and research in the area of enzyme technology.
Information
Format: Paperback / softback
Pages: 524 pages
Publisher: Elsevier Science & Technology
Publication Date: 06/02/2019
Category: Biochemical engineering
ISBN: 9780444641144