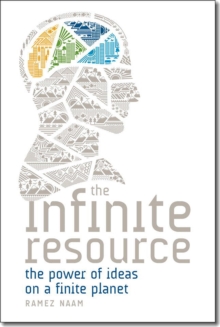 The Infinite Resource : The Power of Ideas on a Finite Planet
Hardback
Description
Climate change. Finite fossil fuels. Fresh water depletion. Rising commodity prices. Ocean acidification. Overpopulation. Deforestation. Feeding the world's billions. We're beset by an array of natural resource and environmental challenges.
They pose a tremendous risk to human prosperity, to world peace, and to the planet itself. Yet, if we act, these problems are addressable. Throughout history we've overcome similar problems, but only when we've focused our energies on innovation.
For the most valuable resource we have isn't oil, water, gold, or land - it's our stockpile of useful ideas, and our continually growing capacity to expand them. In this remarkable book, Ramez Naam charts a course to supercharge innovation - by changing the rules of our economy - that can lead the whole world to greater wealth and human well-being, even as we dodge looming resource crunches and environmental disasters and reduce our impact on the planet. "Most books about the future are written by blinkered Pollyannas or hand-wringing Cassandras.
Ramez Naam-Egypt-born, Illinois-raised, a major contributor to the computer revolution-is neither. Having thought about science, technology and the environment for decades, he has become that rarest of creatures: a clear-eyed optimist.
Concise, informed and passionately argued, The Infinite Resource both acknowledges the very real dangers that lie ahead for the human enterprise and the equally real possibility that we might not only survive but thrive."-Charles Mann, New York Times bestselling author of 1491 and 1493 "An amazing book.
Throughout history, the most important source of new wealth has been new ideas.
Naam shows how we can tap into and steer that force to overcome our current problems and help create a world of abundance."-Peter H.
Diamandis, MD, chairman and CEO, X PRIZE Foundation; chairman, Singularity University; and author, Abundance-The Future Is Better Than You Think
Information
Format: Hardback
Pages: 364 pages, 28 graphs and maps
Publisher: University Press of New England
Publication Date: 09/04/2013
Category: Archaeological theory
ISBN: 9781611682557
Free Home Delivery
on all orders
Pick up orders
from local bookshops