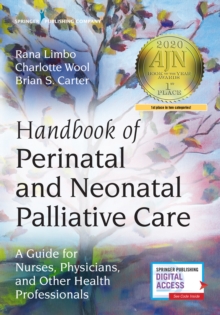 Handbook of Perinatal and Neonatal Palliative Care : A Guide for Nurses, Physicians, and Other Health Professionals
Paperback / softback
Description
The first resource of its kind, this authoritative handbook holistically addresses the multidimensional aspects of perinatal and neonatal palliative care.
Written by an interprofessional team of renowned specialists, it is both a text and evidence-based reference for all members of the palliative care team.
The book helps individual team members forge interdisciplinary approaches to care, assess current programs, improve the quality of care, and tailor new models of care.Encompassing the perspectives of neonatologists, maternal-fetal medicine and other physicians, neonatal and perinatal nurse practitioners, midwives, nurses in all sectors of perinatal care, and child life specialists, chaplains, social workers, genetic counselors, lactation consultants, and others, the book underscores the unique aspects of perinatal and neonatal palliative care, with a focus on improving quality of life, as well as comfort at the end of life.
It describes healthcare for neonates and pregnant mothers, care and support of the family, planning and decision making, and effective support for grief and bereavement.
It addresses all palliative and neonatal palliative care settings, including home care, and covers elements of comfort care, such as pain medication and oxygen. Other chapters focus on the prenatal period after diagnosis of the expected baby's life-threatening condition.
These include such topics as care of the mother, delivering devastating news, and advance care planning.
Each chapter contains photos, figures, and/or tables and case studies with clinical implications and critical thinking-focused questions.
Some chapters also include supportive online materials, such as video clips of interactions between healthcare professionals and the family, demonstrating family support and clinician skills.
Also included is an extensive listing of relevant palliative care organizations.
Paintings and poetry provide an artistic backdrop to the authors' inspiring words. Key Features:Comprehensive and authoritative knowledge from recognized leaders in the fieldAddresses a growing need for specific provider resources in neonatal palliative careCovers the clinical and emotional aspects of palliative care for babies and their familiesAbundant resources for effective and compassionate family-centered careCase studies with critical thinking questionsAccompanying video clips of healthcare and family interactions
Information
Format: Paperback / softback
Pages: 388 pages, 35 illustrations
Publisher: Springer Publishing Co Inc
Publication Date: 30/12/2019
Category: Gynaecology & obstetrics
ISBN: 9780826138392