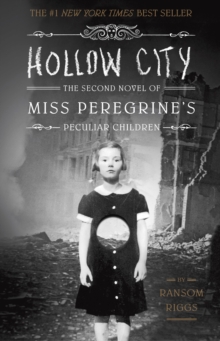 Description
This second novel begins in 1940, immediately after the first book ended.
Having escaped Miss Peregrine's island by the skin of their teeth, Jacob and his new friends must journey to London, the peculiar capital of the world.
Along the way, they encounter new allies, a menagerie of peculiar animals, and other unexpected surprises. Complete with dozens of newly discovered (and thoroughly mesmerizing) vintage photographs, this new adventure will delight readers of all ages.
Information
Format: Paperback
Pages: 416 pages
Publisher: Quirk Books
Publication Date: 16/02/2015
Category: Horror & ghost
ISBN: 9781594747359
Free Home Delivery
on all orders
Pick up orders
from local bookshops
Reviews
Showing 1 - 5 of 12 reviews.
Previous | Next
Review by aya.herron
16/06/2015
The most peculiar children you have ever met are back in the next installment of the series. As Jacob Portman struggles to understand and control his newfound peculiar ability, the group continues to London on a quest to restore Miss Peregrine to human form. With time running out, the group makes their way through the war-torn city in search of another time loop that will take them to the last free ymbryne. Only Miss Wren can help them save their beloved headmistress. Along the way the peculiar kids encounter other peculiars and fantastical beasts while trying to stay clear of hollowgasts and wights. The second adventure will leave you wanting more as Jacob comes face-to-face with the most difficult decision of his young life.The Bottom Line: The second novel picks up exactly where the first novel left off. Once again the intriguing vintage photos and text work well together to provide the reader with a unique experience. This book is a fantastically dark page-turner. The peculiar children demonstrate teamwork, friendship, and loyalty. Enthusiastically recommended for teens and adults who enjoy books with supernatural and time travel twists.
Review by bookworm12
16/06/2015
This is the follow-up novel to the hugely successful Miss Peregrine's Peculiar Children. You definitely need to read that one first in order to understand what's happening in this one. It picks up immediately after the final pages of the first book. The series introduces readers to an X-Men style cast of characters. Each one is an outcast in their world because they have some sort of special power or ability. One is lighter than air, another can make fire with her hands, another has incredible strength, and another is invisible. The children are all on the run because they are being pursued by an evil group that's trying to destroy them. The real twist with this series is that the book is filled with antique photographs that are worked into the story. I know that for most people, this aspect is their favorite part. I feel a bit differently. While I love the photos themselves, I struggle with the fact that the story feels too dependent on them. It felt like every time the author stumble upon a strange photo, he manipulated the plot to work it in and it felt very forced. I get that he is making up stories to go along with the photos he finds, but it often felt intrusive into the bigger picture he was trying to tell. I wanted him to focus a bit more on the characters and less on showing one more eerie photo. I do think that this one advanced the plot in an interesting way, but I was hoping it wouldn't feel quite as driven by photos as the first one did. BOTTOM LINE: I enjoyed it, but I'm just not on the edge of my seat in the way I feel like I should be. The novels are so full of action and suspense and if I'm two books in and not too worried about what comes next, that's not a good thing. I think I'll probably skip the next book because the series has failed to really hook me so far. *I received a review copy of this book in exchange for an honest review.
Review by emily.s
16/06/2015
I like the first book. Just liked. It wasn't mind blowing or incredibly creepy. It was exaggeratedly descriptive in a beautiful way (which meant that I was constantly re-reading paragraphs). Miss Peregrine's Home for Peculiar Children was interesting enough that I read it fairly fast and then passed it on to my friends and family who enjoyed it very much.And now we're here, Hollow City. And this one, I adored just enough that I plowed through it. I took in every beautiful description like it was the last book I'd ever read. I fled right along with our peculiar friends and met many new (more interesting ones tbh) along the way.Hollow City starts out very slow. Nothing much happens and I was afraid I'd be back in the same boat I was with the first one. But, it soon picks up and we're traveling through time! Literally. Away from the ruins of their beloved lighthouse on the island.And so much happens, but it all happens very quickly. And there is almost too much to take in.Peter-and-Joel. The only reason you'll need to read this book. They're my favorite adorably peculiar boys!I could really do without the "romance" between Jacob and Emma. It seems to be adding nothing to the story.If you can take in all the back story and keep up with every little thing that is going on in these books, it really is an interesting and magical thing.End note: I'm ready for the movie. I can't see it being anything more than amazing.
Review by mzonderm
16/06/2015
In my review of Miss Peregrine's Home for Peculiar Children, I wrote that Ransom Riggs is clearly a talented writer, but that his talents didn't seem to be up to the task to explaining the system of time loops that are at the center the book. I said that I hoped that the second book in the trilogy would offer some fuller explanations. Unfortunately, I'm just as much in the dark as I was before, perhaps even more so. No better explanations of the time loops were forthcoming, and some additional twists were thrown in to make them even more confusing. Still, the characters and story were just as good, and I'm excited to see how Riggs wraps things up in the third book (and still hoping for an explanation of the time loops that I can wrap my head around).
Review by readerbynight
16/06/2015
The sequel to Miss Peregrine's Peculiar Children, this again is a novel that combines a fantasy that works quite well into how children may have perceived the second World War, the lives of what were once refered to as 'freaks' in a carnival, the lives of children who have become orphaned through whatever means, and many more. To be honest, these children are not children at all. If they stepped out of their time loop they would be very old; where they are they remain forever ageless. Ransom Riggs has taken a group of antique photos he has found throughout several years and extracted a story from the mix. Some are perfectly normal photos of the past century, some are obviously from various carnivals, all have become a story. Not the story of the photos, but a strange and compelling story gleaned via Ransom's own imagination of what they imply, and in some cases I suspect stories related through research.The author has created a hidden world in his books. Are the photos creating the story? Or is the story the basis of the search for the photos? I think in this second book it is quite obvious that the photos inspire the story, perhaps more so than the first book. Regardless, it is out of the collection and the search that the story has been born. The photos are real. In fact, one I recognize because I once collected old postcards and in the process happened to see it. Personally, I think this is a wonderful method of creation. The imagination flows from each photo into a complete, at times war-torn, world. A complete life story has come from each personal photo, though some are pretty far-fetched, it is a fantasy after all. The monsters the 'peculiar' children are so terrified of appear to almost be an allegory of the monsters of war. Considering most of the story in their hidden time loop is in 1940, this makes sense. But it is also a love story, a group of individual children that are different becoming strong in their individualities, especially in their search for help for their injured guardian, Miss Peregrine. Regardless, this unique method has produced interesting concepts in both books and may just change the way 'different' people are viewed. Surprise twist toward the end. Middle grade and up.