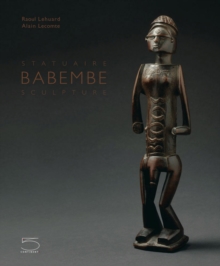 Description
Richly illustrated monograph of 20th-century Babembe sculpture devoted to family ancestors.
This book provides the first investigation into the symbolic artistic work of the Bembe, or Babembe, in Swahili; people who live on the banks of Lake Tanganyika in the Democratic Republic of the Congo.
Analysis of their illustrated works allows the principal characteristics of their art to be defined.
The anthropomorphic statues they carve in wood are often characterized by incisions representing tattoos, scarifications or skin decorations that the Babembe use to embellish their bodies during initiation ceremonies.
At times these artworks are adorned with pieces of fabric, tools made of horn or stone jewels, and often featuring eyes made from faience or shell.
The selected sculptures, many of which have never been published before, are drawn from public and private collections.
They have been chosen for their aesthetic qualities, and for the different typology.
Each artwork was conceived to represent the spirits of the ancestors, a link between the individual who commissioned the work and supernatural forces of the Babembe's animist religion.
Information
Format: Hardback
Pages: 211 pages
Publisher: Five Continents Editions
Publication Date: 01/03/2010
ISBN: 9788874395446
Free Home Delivery
on all orders
Pick up orders
from local bookshops