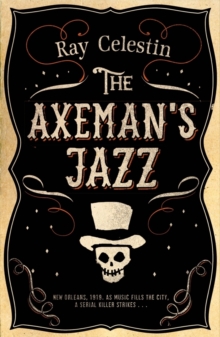 The Axeman's Jazz
Hardback
Description
Winner of the CWA John Creasey New Blood Dagger for Best Debut Crime Novel of the Year. Shortlisted for the Theakston's Crime Novel of the Year AwardAs recommended on the Radio 2 Arts Show with Claudia WinklemanInspired by a true story, set against the heady backdrop of jazz-filled, mob-ruled New Orleans, The Axeman's Jazz by Ray Celestin is an ambitious, gripping thriller from a major talent in historical crime fiction. New Orleans, 1919. As a dark serial killer - the Axeman - stalks the city, three individuals set out to unmask him . . . Though every citizen of the 'Big Easy' thinks they know who could be behind the terrifying murders, Detective Lieutenant Michael Talbot, heading up the official investigation, is struggling to find leads.
But Michael has a grave secret, and if he doesn't get himself on the right track fast, it could be exposed . . . Former detective Luca d'Andrea has spent the last six years in Angola state penitentiary, after Michael, his protegee, blew the whistle on his corrupt behaviour.
Now a newly freed man, Luca is back working with the mafia, whose need to solve the mystery of the Axeman is every bit as urgent as that of the authorities. Meanwhile, Ida is a secretary at the Pinkerton Detective Agency.
Obsessed with Sherlock Holmes and dreaming of a better life, Ida stumbles across a clue which lures her and her musician friend, Louis Armstrong, to the case - and into terrible danger . . . As Michael, Luca and Ida each draw closer to discovering the killer's identity, the Axeman himself will issue a challenge to the people of New Orleans: play jazz or risk becoming the next victim. And as the case builds to its crescendo, the sky will darken and a great storm will loom over the city . . .
Information
Format: Hardback
Pages: 336 pages
Publisher: Pan Macmillan
Publication Date: 08/05/2014
Category: Historical mysteries
ISBN: 9781447258865
Other Formats
Paperback from £7.09
EPUB from £3.59
CD-Audio from £17.95
Free Home Delivery
on all orders
Pick up orders
from local bookshops
Reviews
Showing 1 - 1 of 1 reviews.
Review by kerryelizabeth
16/06/2015
First of all, I'd like to thank both the publisher and NetGalley for the opportunity to review this book before publication date. It was truly an honour.Based on the real life Axeman murders in New Orleans in 1919 (of which a person was never convicted), this book is filled with suspense, mystery and conspiracies beyond your wildest imaginations. This is a brilliant fictional story based around real life events that shook the whole of New Orleans.I would like to prelude this review by stating that this is an incredibly well written book. Celestin has a gift to manipulate and mould the English language in a fluid and beautiful way, and I think he has a natural talent for writing. It's almost like poetry to read; everything just flows together and you end up reading so much that you didn't realise how much you'd read until you've stopped. It seems like the pages turn themselves.Celestin portrays the segregation, sexism and almost demonic part of society in that time and place in a gentle and sensitive way, which means that although it's difficult to read because it has the air of truth about it, in no way do you feel forced to a particular point of view and it's written about respectfully. I think that that is a decent thing to do, and actually made me enjoy the book all the more.The plot was definitely captivating. There are so many mysteries and clues that don't seem relevant or don't seem to fit together, that all of a sudden just fall into place with each other and you think "oh... well I didn't see that coming but it makes so much sense!" You are gradually revealed snippets of information as you read on, but you never receive more than the author wants you to, and it is because of this that you could never figure out the ending. If you, as a reader, managed to figure out who did it and why, I tip my hat to you. I adored seeing how each of the character's mysteries tied together and became resolved. None of it seemed unrealistic, either. All of it was believable, and this, tied with the fact that it's based on a true event in history, made the whole book all the more suspense-filled.The only thing I believe this book could do better were the descriptions of the places and the people. I would have loved to have been enveloped in the rich sights, smells and sounds of the city at the time. What were the colours, the foods, the fumes like? I feel like Celestin, while he did put in some description and scene-setting, could have developed the surroundings more and really used the surroundings to his advantage in his writing. It just lacked a certain richness that I craved.Overall I think this is an absolute gem of a historical crime thriller, and it was an honour to read.