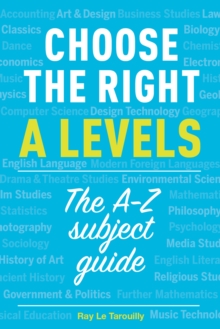 Choose the right A levels : The A-Z subject guide
Paperback
Description
Selecting the right A levels is more importantthan ever in helping you shape your future path, whether through securing aplace at your ideal university, or starting out on your chosen career.
But withsuch a huge variety of subject options and combinations on offer, where do you begin and indeed what are the `right' choices?
In truth, what's `right' is what's best for you, and anydecisions you make about your future should therefore be informed and personal toyou, to ensure you find the perfect match to suit your own individual interests,skills and learning style. Giving you all the knowledge you need at your fingertips to support you in making these important decisions, Choose the Right A levels is yourone-stop source of practical information, answering key questions such as:What does the course outline look like and how is the subject assessed?What key skills does the subject draw on and develop?Which subjects are preferred or required for certain degree courses and careers?What will I need at GCSE to study the subject and how does the subject compare to GCSE?What subjects combine well together?
This comprehensive and impartial guide also features comparative data on national pass rates for each subject, and insightful student case studies on what did and didn't work well for others.
Written by an expert Careers Adviser, and laid out in a simple format for ease of use, this accessibleguide is your essential aid to navigating the wide range of subject options available and making the best choices for you and your future.
Free Home Delivery
on all orders
Pick up orders
from local bookshops