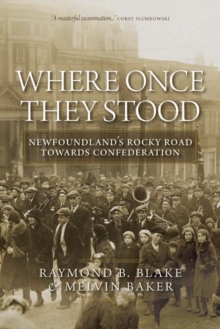 Where Once They Stood : Newfoundland's Rocky Road towards Confederation
Paperback / softback
Description
Where Once They Stood challenges popular notions that those who voted against Confederation in 1869 and for union in 1948 were uninformed and gullible.
Raymond Blake and Melvin Baker demonstrate that voters fully understood the issues at stake in both cases, and women became instrumental in determining the final outcome, voting for Canada in 1948, believing it provided the best opportunities for their children. "A lively history of Newfoundland politics from the 1860s to the 1940s, with vigorous and persuasive arguments as to why Newfoundlanders were right to reject Confederation in 1869, and right to embrace it in 1949." -Christopher Moore, author of 1867: How the Fathers Made a Deal "Blake and Baker vigorously bring the exciting fight of ideas in Newfoundland to life.
We forget how great the stakes were--nothing less than the survival, security, belonging and recognition of a people.
Readers will discover how Newfoundlanders debated for four generations whether Canada was a beau risque." -Patrice Dutil, author of Prime Ministerial Power in Canada
Information
Format: Paperback / softback
Pages: 416 pages
Publisher: University of Regina Press
Publication Date: 23/03/2019
Category: History of the Americas
ISBN: 9780889776074