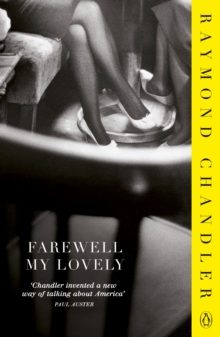 Farewell, My Lovely
Paperback
Description
Farewell, My Lovely is a classic novel by Raymond Chandler, the master of hard-boiled crime.Eight years ago Moose Malloy and cute little redhead Velma were getting married - until someone framed Malloy for armed robbery.
Now his stretch is up and he wants Velma back. PI Philip Marlow meets Malloy one hot day in Hollywood and, out of the generosity of his jaded heart, agrees to help him.
Dragged from one smoky bar to another, Marlowe's search for Velma turns up plenty of dangerous gangsters with a nasty habit of shooting first and talking later. And soon what started as a search for a missing person becomes a matter of life and death . . .'Anything Chandler writes about grips the mind from the first sentence' Daily Telegraph 'One of the greatest crime writers, who set standards others still try to attain' Sunday Times'Chandler is an original stylist, creator of a character as immortal as Sherlock Holmes' Anthony BurgessBest-known as the creator of the original private eye, Philip Marlowe, Raymond Chandler was born in Chicago in 1888 and died in 1959. Many of his books have been adapted for the screen, and he is widely regarded as one of the very greatest writers of detective fiction.
His books include The Big Sleep, The Little Sister, Farewell, My Lovely, The Long Good-bye, The Lady in the Lake, Playback, Killer in the Rain, The High Window and Trouble is My Business.
Information
Format: Paperback
Pages: 320 pages
Publisher: Penguin Books Ltd
Publication Date: 01/10/2010
Category: Crime & mystery
ISBN: 9780241954355
Other Formats
Hardback from £12.65
EPUB from £3.99
CD-Audio from £10.69
eAudiobook MP3 from £5.09
Paperback / softback from £6.95
Free Home Delivery
on all orders
Pick up orders
from local bookshops
Reviews
Showing 1 - 2 of 2 reviews.
Review by Quickpint
16/06/2015
I'm a massive, enormous, gigantic Chandler fan, but after many re-reads of his book, I think this may be my least favourite. Oddly, it was the author's favourite, at least according to one interview. Terrific plot resolution at the end, but I don't know, something missing here for me... I just don't think the prose is as consistently good as in the other Marlowe novels. Sometimes, only once or twice, I think Chandler even tries a wisecrack and misses completely. Also the Shakespeare references, together with the Hemingway take-down, make him look a little insecure as a writer. Difficult second novel? Maybe. I'm not totally convinced by Marlowe's apparent reluctance to begin a happy relationship with Anne Riordan either. Still a better book than most crime writers have ever written.
Review by Widsith
16/06/2015
Given how many thousands of times Chandler's style has been parodied, I was worried that I might not get much out of the original. But his prose just has such a lovely, muscular rhythm that I find myself breaking into a grin every few pages. Beware imitations – the real article can't be bettered:<i>I needed a drink, I needed a lot of life insurance, I needed a vacation, I needed a home in the country. What I had was a coat, a hat and a gun.</i>Come on, you can't not love this. The plot is about as incomprehensible as <i>The Big Sleep</i> was, but this time involves the lawless seafront development of 'Bay City' (a thinly-disguised Santa Monica). There is the usual delectable quota of seedy nightclubs, corrupt cops, cheap whiskey and dangerous women (including the famous 'blonde to make a bishop kick a hole in a stained-glass window'). As another reviewer has already suggested, a good chunk of the interest here comes from the insight into 1930s west coast society, its drinking habits and clothing and social mores, and its pervasive sense that law and order is a relatively new and shaky development there. A good slang dictionary is a useful companion, so that when a yegg pulls out a hog's leg before taking the fall for the high pillow, you can more or less keep up with events.I love this. I'm two books in, and I'm already certain I want to read the lot.
Also in the Phillip Marlowe series | View all